'I have learnt so much from 10 Ka Dum'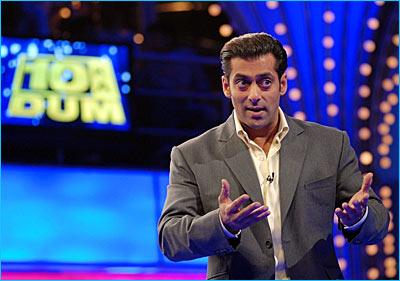 Salman Khan has started his innings in television with 10 Ka Dum, and he seems very happy about his show. We quizzed the star about his experience and if we can expect to see Katrina Kaif on the show anytime soon. Excerpts:
Are you enjoying yourself on the show?
Yeah. I love it because the people, who come for the show, are very good and rational. There is no difference between them and me. Everybody needs money but when they are out of the show, they don't have regrets. They leave the show with in a happy frame of mind and that's commendable. I am proud of the citizens of this country.
I feel good that my mindset and way of thinking is very similar to those who participate in the show. It's only now that I have finally understood why I am at this level. It's because I think in a similar way as the others.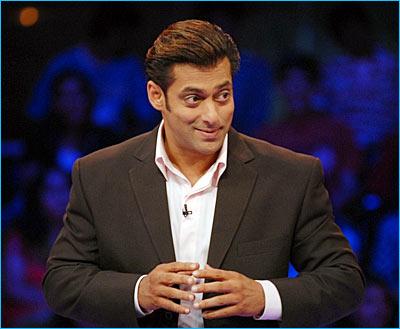 In this one-hour show, you have to do things impromptu. Was it difficult?
No. It's great fun that I get to speak from my heart. There are times when whatever I say sounds good while at other times, it might not sound good to others.
Did you learn anything from any contestant?
I have learnt so many things from this show. The biggest lesson is that you have to laugh whenever you are tensed.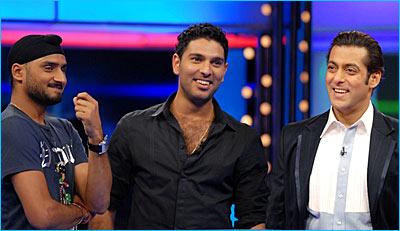 Will you rope in other celebrities on the show?
I think I will invite Sanjay Dutt and Govinda. Aamir Khan, Yuvraj Singh and Harbhajan Singh just recorded an episode for us. Whenever such celebrities come, then winning money is not their primary concern. They donate their money to charity.
When will Katrina Kaif and Shah Rukh Khan come for your show?
I don't know about Katrina but we will bring in SRK. But a formal invitation is yet to be given.
Do you think celebrities are necessary to sustain interest for the show?
Let me tell you one thing. The intention of this show is not to up its TRP ratings by roping in celebrities at regular intervals. The only intention of this show is that if a celebrity comes in and wins money, it will go to a charitable institution. If a contestant wins money, he will be able to support his or her family.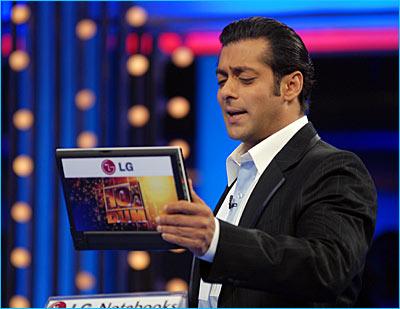 So how popular is Salman Khan? Is it 25 percent, 50 percent, 75 percent or 100 percent?
It's 0 percent because mere talking amounts to nothing. If I were to say 100 percent, that would amount to nothing either. It hardly matters if it's zero or 100. You can see how popular Salman Khan is.
What did your father Salim Khan like 10 Ka Dum?
He said that the show is very good. But he said that I need to work harder. It's a big responsibility on my shoulders and everything has to be done seriously. This time, it's a different platform and I want to take the show to a different level. He told me that the show must be taken to a different level so that people respect me.
It was reported that Katrina wasn't given good treatment at Bangkok for the IIFA awards. Is it true?
I am not her secretary. She is a grown up and intelligent person, who can sort out her own problems.
http://specials.rediff.com/movies/2008/jun/12sli1.htm