Review:10 Ka Dum: Salman's promising first steps
Sukanya Verma
June 09, 2008 11:54 IST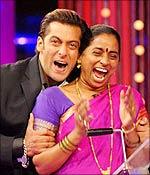 Salman interacts with one of the contestants on the show.
There are two ways of looking at it. Celebrities are no longer an inaccessible lot. Or you could say they are pretty much everywhere nowadays. Whatever your feelings may be, there is no stopping to big screen stars jumping onto the small screen bandwagon -- be it as hosts or judges.
Having said that, Kaun Banega Crorepati starring Amitabh Bachchan [Images], has unofficially assumed its position as a bar to measure the success of other star-hosted game shows, owing to its overwhelming following while others fail/hope to follow suit.
Even as Shah Rukh Khan [Images] tries to revive the sagging ratings of his hugely publicised, Kya Aap Paanchvi Paas Se Tez Hain? (which many believe suffered from the previously on Indian Premiere League matches), his co-star in Karan Arjun and Hum Tumhare Hain Sanam -- Salman Khan [Images] makes a dapper debut on the idiot box.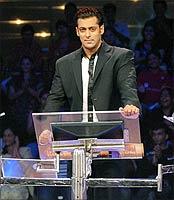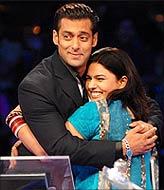 The desi version of Drew Carey-helmed Power of 10 on CBS is now Sony TV's 10 Ka Dum. All it requires of its participant is to be a good guesser and answer five questions (read guess percentages) for Rs 10,000, Rs 1 lakh, Rs 10 lakh, Rs 1 crore each, leading up to the prize sum of Rs 10 crore. It's amusing to watch Salman at his earnest (need we add well-dressed) best as he spells out the rules of the game.
Of course, he's Salman Khan at the end of the day, and so you get the famously mercurial star shift his body language, accent and reflexes from time to time. His quips range from cheeky -- ''Aloo aur Indians har jagah hain (Indians and potatoes are to be found everywhere)' to cheesy 'Mere father ne ek saand paida kiya hai. Log apni apni guy bachayein (My father has produced a bull. All you people out there, save your cows).' For starters, he's doing alright.
There's nothing remotely educational about the show. The questions range from What per cent of Indians read newspaper in the toilet every morning or to the percentage of Indians who spent the night sleeping on their wedding night? The final conjecture is drawn on the basis of a survey done earlier. If the participant's answer is closest to the masses-drawn percentage, he/she scores.
Stastical ambiguity aside, here's what the first two episodes aired on June 6-7 had to offer. In the opening episode, which was definitely lot more fun than the second, we have an Akshata 'vivacity personified' Tiwarekar and Vamsika 'Salman-struck' Ghai vying for the hot seat. After a few hugs and professing undying love for the actor, the newly-married lady makes a series of bad guesses and leaves the stage for Akshata. The latter is only too happy to infuse the show with, unfamiliar to us but (probably) characteristic to her, brand of enthusiasm. She laughs. She jokes. She proclaims. She prods. She dances. She even manages to corner Salman and turn him a shade of beetroot. Thanks to her really, both the show and Salman flow effortlessly through the first day.
Day 2 is marred by contrived participants. Truth be told, even if stars draw initial attention to any show, the real key to make them click lies with the players. It is their honesty, timing and genuineness, the programme relies on.
After Akshata's booming liveliness, the not-so-much-fun Nandini Biswas and Uttkarsh Marwah play to win. Marwah gets out while the nose-ringed Biswas stays on. She loses early and makes for the exit but not before presenting Salman a bed sheet printed with his picture. Khan is partly flattered, partly confused and mostly plays it down. 'I don't want to develop a habit of these things,' he says, quickly adding, 'folding sheets with you, that is.'
Up next, Badadeeda (translated as big-eyed, is what Salman's Indore-based relatives fondly nick-named him in childhood, he recalls during the show) introduces Jaunpur's Kamal Asif and Muzzafarnagar's 'celebrity' kabaddi player, Bawbin Kumar. And can this guy talk? The man goes on and on about his hu tu tu-themed achievements and generally mistakes the show for an audition of Bunty Aur Babli [Images]. Poor Asif stands no chance. The game ends at Bawbin still playing (and babbling).
It's impossible (and too early) to tell what the TRPs will predict going by the bizarre economics of success in television entertainment. If you are a die-hard Salman Khan fan, 10 Ka Dum is a God-sent opportunity to hang out with the star every weekend. If not, you are better off guessing the percentage of people (like yourself) who will not watch the show.
http://inhome.rediff.com/movies/2008/jun/09dum.htm
Rediff Rating :