This Khan is different...
Rakshanda Khan.
A WHIFF of fragrance that wafts through your mind long after the scent breezes away. The svelte Rakshanda Khan is perhaps best portrayed this way if you happen to come across her. An impressive personality, an innate sense of style, and with a voice that stops your steps to take notice, the Khan girl though, describes herself as "a busy bee" these days. Live events, tele-serials, modelling, anchoring... she seems to be doing everything. Already reaping fine response as Mallika in the popular Sony soap,
Jassi Jaissi Koi Nahin
, she now features in Star Plus's star serial,
Kyunki Saas Bhi Kabhi Bahu Thi..
. And, being in the top shows of two rival channels, Rakshanda says, she couldn't have asked for more. "For most days, I have to get up very early in the morning and the whole day passes off either in front of the camera or dubbing. Though, I knew that being in two dailies and one anchor show besides my other assignments in live shows etc, won't be a cake-walk. But, at the end of the day, I feel happy which is what is counted finally," says this Mumbaikar. Full of giggles and smiles even after a 13-hour shooting shift, Rakshanda says two months after
Jassi...
happened, Balaji Telefilms contacted her for the role in
Kyunki
... .
"Since I worked in Balaji Telefilms' serial Kya Hadsa Kya Haqeqat, they knew my work. I also told them very clearly that I would not be interested in doing a similar negative role as in Kya Hadsa... if I am considered for any of their serials. So, when this new character was thought of in Kyunki..., they approached me," relates Rakshanda. Entering the serial as a foreign investor willing to work with the Virani Parivaar, she hopes the role catches audience notice. "When I meet people, specially children and older people, they tell me how good I am as Mallika in Jassi... Little girls tell me when they grow up, they want to dress up like Mallika. So, you see, there is appreciation, there is admiration. I hope, the new role in Star Plus too is well accepted," she says. Starting off with modelling, anchoring, and then serials, Rakshanda, being the first in her family to enter the world of showbiz, says she is still apprehensive to take the big leap - films. "There is so much happening in my career. I am actually very happy with this. Since the time I was modelling, I have been getting film offers but that is a territory I am not very comfortable with and so I don't want to tread it yet," the lady is quite clear about it. Being in the show world, isn't she a little strange?
Rakshanda Khan on how to look hot!

Priya Ganapati in New Delhi | April 29, 2004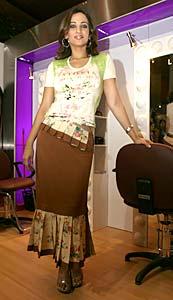 Today, she's more known as Mallika, the character she plays in the popular television serial, Jassi Jaisi Koi Nahin.
It was with this serial that former model Rakshanda Khan, who also dabbled as a television anchor, has found fame as an actor.
At the Lakme India Fashion Week, rediff.com got Rakshanda to answer five quick questions:

What are you wearing?

A beige top with a knee-length skirt that has frills at the bottom.

Is it a designer outfit?

Yes. It is an Ashish Soni outfit that I picked because skirts are very in, prints are very in, but more than anything else because the whole outfit is very comfortable.

Who are your favorite designers?

Hemant Trevedi, Abu Jani-Sandeep Khosla and Aki Narula.
I really like Hemant Trevedi and I buy a lot of his stuff from the Sheetal Design Studio in Mumbai.

What kind of clothes do you avoid?

Spaghetti strap tops and anything else that is too revealing.

Where do you usually shop for your clothes?

I like Zara in London. They have a lot of very nice jackets and tops.
The other one is Monsoon, in London, Dubai and many other cities. I pick up a lot of accessories from there.
In India, I usually shop at the Sheetal Design Studio. I am not really hot on designer stuff. Most of my stuff is not designer wear. I pick them up from just anywhere.