Voting Results for the CC Banner Contest!


Hiya friends!!
Finally, the wait is over and the voting results are in!
Link to our Banner contest Voting Round 1 thread:
http://www.india-forums.com/forum_posts.asp?TID=929469
Since we got a clear winner, there was no need to proceed with a 2nd Voting Round
It's time to announce the Chit Chat Banner Contest Winner!
But before announcing the winner, we'd like to thank all the members who participated in the contest, and made such beautiful banners.

They were all great and I'm sure it was really tough for the members who voted to choose the best one out of such awesome entries...
So thanks to everyone who voted!
Now it's time to show the winning banner:
Banner 12
The winning entry was submitted by none other than
Abhy ( Jr.Nancy Drew)
Congratulations Abhy sweetie
Here is your prize: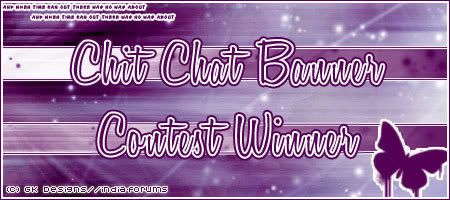 ---------
The following 2 banners got the second highest votes:
Banner 7

By Rukhaya
and
Banner 9

by Ammara
So Rukhi and Ammara you are both the CC Banner contest Runner Ups!!
Here..this is for you:
Special thanks goes to dearest Gurprit(gk_09) for making the wonderful siggies!
The winner (Abhy) will get a title as the "Chit Chat Banner Contest Winner" & the winning banner will be up soon!
Regards,
Cc Dev Team


Edited by Gracella - 18 May 2008 at 11:40pm