hi
Welcome Friends to Saat Phere Buzz and Times. Post your msgs news and other happenings here.
For new members in our forum who
would like to know the concept, story and the characters better, and to get to know everyone in the forum....
saloni visits kalika. Kalika refused to talk to her or any one associated with Narpat. Narpat wanders around thinking about Ambika and his family. kalika hits him while driving. She brings hurt Narapt home and takes care of him. Narpat stays with her. kalika shows him pics. When he sees shyama he realises that kalika is his daughter. Gaj comes and tells kali seeing Narpat that this is the traitor you were looking for to punish. Kali asks Narpat to leave. KTJ takes care of big problem at the factory created by workers and wins kakasa's heart. Sal comes back to take kali home she refuses and asks sal to leave. Tara acts crazy not seeing advitiya. Who is taken out by dheer to keep him quiet. Tara overreacts and apologize later. Narpat spots kali going to hospital and follows her and finally meets sleeping shyama and apologize to her. Kali seeing him with her overreacts.
When kalika takes care of Narpat and Narpat meets Shyama
Saloni trying to bring back kalika and Narpat trying to correct his mistakes.
12th May http://www.india-forums.com/forum_posts.asp?TID=941247
13th May http://www.india-forums.com/forum_posts.asp?TID=942178
14th May http://www.india-forums.com/forum_posts.asp?TID=943109
15th May http://www.india-forums.com/forum_posts.asp?TID=944045
Naz_u54 and queenyuks.
congrates enjoy your siggy.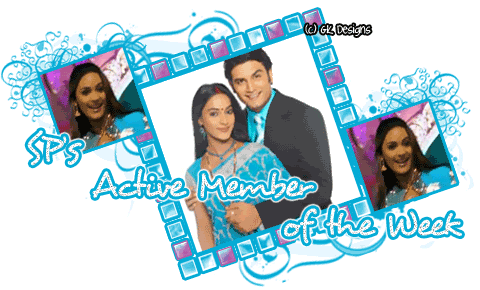 complete these names
M_ _no B_ _bh_
N _ _ra_
U_v_s_i
N_ _ar
Th_ku_ Pa_a_si_gh
Ch_n_an_
Ch_m_i
V_rPr_t_psI_g_
k_v_r_
Sh_y_m_
Pm the Answers to me by May 24th. Subject: NL 39 contest. Enjoy.
Winners for NL 37 are ania_123 and Sharona_bha congrates.
!!*Jokes*!!
A husband, proving to his wife that women talk more than men, showed her a study which indicated that men use about 15,000 words a day, whereas women use 30,000 words a day. She thought about this, then told her husband that women use twice as many words as men because they have to repeat everything they say. Looking stunned, he said, "What?"
*******
Sarah was reading a newspaper while her husband was engrossed in a magazine. Suddenly, she burst out laughing. "Listen to this," she said. "There's a classified ad here where a guy is offering to swap his wife for a season ticket to the stadium." "Hmmm," her husband said, not looking up from his magazine. Teasing him, Sarah said, "Would you swap me for a season ticket?" "Absolutely not," he said. "How sweet," Sarah said. "Tell me why not." "Season's more than half over," he said.
*******
There was a couple married for 50 years and on the 50th anniversary the wife saw the husband crying and she told him "honey i never knew that after 50 years you would still love me the same way you did 50 years ago".
The husband looks at the wife and asks her "honey, do you remember 50 years ago when your father caught us behind the barn together?" And the wife says yes, the man replies do you remember what your father told me that day? She replies no. The husband replies he told me that if I don't marry you he would have me locked up in prision for 50 years. The wife looks at the husband and says "and?"
So the husband replies " oh no I could have been a free man by now"
!!*Songs*!!
Ambika
Sapna mera toot gaya
Tu jo gaya sab kuch khoya
rote huye bas yaad karun
Aur ab kuch baki na raha
Kalika to Narpat
O gussa mujh ko aye dil mera jal jaye
jab tume mai saamne dekhu maarne ko ji chahe
Kalika to saloni
Mujhe tumse kuch bhi na chahiye
mujhe mere haal pe chhod do
mera dil hai aag babula ab tum mera picha chhod do
Saloni replies
Na manu na manu na manu re didi aaj teri batiya na manu re
didi man me tere kya hai mai sab janu re didi aaj teri batiya na manu re
Thanks to all updates and kruthi for templates.
Plz post any suggestions or concerns right here.
****SP Dev. Team****


Edited by ramas - 19 May 2008 at 8:06am