Hello friends
*Courstey: Tumhari_Khushi*
I am Shifali, and today, I am here on behalf of the KDMHMD Dev team to come here to present to you our May 4th week Dil Of The Week!!
Dil is the name that we gave our special bakri of the week.
Now it's time to grill another member!

Presenting our new Dil of the Week, she is our Viewbie, Her interests include IF, Reading, Going Out,and is very active in the forum these days! She does splendid updates for KDMHMD. She is a nice person to be around. She is mature for her age. And she is a true PH & KDMHMDain and loves Preet and Prem!
And here is another hint, her 1st letter of her name reminds you of Stunning!.
Any guesses??
Yes, its none other than our very own:
*Shifali*

Congrats Myself
!
This is Your DOTW signature: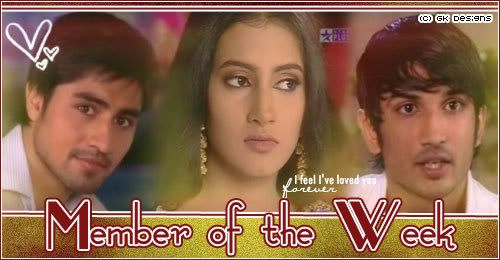 Credit for Sigg: GK_09
Here are a few questions to get you started on your DOTW

Name:

Age:


Birthday:


Profession:

Hobbies:


Favorite color:
How I got started with IF:


My Favorite section on IF:

Why I visit the KDMHMD section:


Prem -Heer or Prem -Ashlesha:


Daily Soaps or Movies:

My best friend(s) on IF:

Location:

Why do u like KDMHMD?

Prem & Heer mean:
Heer or Ashlesha?

How u landed on KDMHMD forum?

How does it feel to be the special bakri I mean, Dil Of The Week?
Fav Actor:

Fav Actress:

Fav Character from KDMHMD:

Fav shows:


So this is your host & dost Shifali signing off and saying, she will be back yet again, with another dhamaake daar entry and with another bakri!
Ask all questions before the end of the week, because the next MOTW will be up on May 16th!
Love, IF Dev Team & Shifali & Sana