Originally posted by mallika_14
Originally posted by BengaliChica92
Armaan...Feel Free to use comment...ect...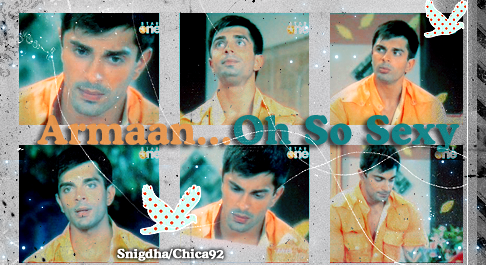 woahhhhhhhhhhhhhhhhhhh!!!
snighuuuuuuuuuuuuuuuuuu thanks a bunchhh!*
im like totally speechlesss...this sig is likee the bestt sig evaaa....its likkeee so Hawttttt!
he luks so cutee in da picxxxx...my cutipiee**
gawdd..i dont have words for the sig..its so amazingg..!!thanks alott snigsss..!!
im gonna use it rite awayyyyy!!!!!Makee moree pleaseeee...and some videoo avi's toooooo!!Pleezeeee..
im dead ya after seein dis sigggggg...da sig luks super-R Bootiful..
keep it upp dearrrrr*!!
mwah~
p.s-My Fav Siggy maker-YOU!
YOU ROCKK!
Ohh my allAh!! Your making me blush* isshhhh!!
How cute of you!! Glad to make ya happy...nd kay will keep that in mind!!