Is this Bhatt's new hero?
Srabanti Chakrabarti |
April 30, 2008 16:05 IST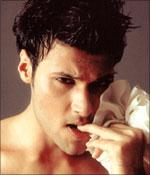 src="/uim/include/movies_top.htm" type=text/javascript> src="http://www.rediff.com/uim/incl ude/flash.htm" type=text/javascript>
You have to give them their due -- Balaji Telefilms [Get Quote] knows how to create a star! This time it is from our neighbouring country Pakistan.
Yasir Shah the latest star-in-the-making from the Balaji camp is all set to get a strong foothold in Bollywood. The two-time winner of Best Stylish Person in Karachi, Shah has been modelling for four years now. He has been working with the Balaji-ARY (a Pakistani channel) joint venture show -- Kwaish.
"I got to know of an audition for the role of Azaam in the serial and took part in it. To my joy, I got selected for the serial, which was being telecast on Sony till recently. God knows why they have taken this off air," says a dejected Shah. "But that does not mean that I am going to return to my country for good. I am going to fight it out here. I am very thankful to Balaji Productions. They are taking care of me completely and providing everything -- from my apartment to my car. I have also been selected for another serial for Balaji," says a grateful Shah.
"I am very close to Nivedita Basu and Ekta Kapoor [Images], and they have given me the opportunity to play one of the main leads in the coming serial. Anita and Jay Bhanushali are also acting in the serial," says the handsome actor.
Before the shooting for the new serial starts, Shah is taking a break and wants to visit his hometown.
"I am buying loads of sarees for my relatives! In fact when I first decided to come to India for this serial, my parents were a bit worried," says Shah. "But now they are content and happy, albeit after some time!"
Apparently, Anju Mahendra (his co-star in Kwaish) had arranged for a preliminary meeting with Mahesh Bhatt [Images]. "I am extremely positive about this, and am looking forward to working with Vishesh Films."