A report from De Taali promo shooting on Raja's song Maari Titri:
We landed up on the sets of E. Niwas's comic caper De Taali at N.G. Studios, Karjat. A promotional song on the film was being shot. The shoot started a full two hours late as the last minute preparations took a bit longer.
The song has a lot of foreign dancers in red dresses. The song is sung by Raja who was ta find from of a Television talent show. It is a Rajasthani folk number with a bit of English lyrics called Mari Titri. It is a very fast based catchy number which has Aftab and Riteish freaking out. In the song Aftab and Riteish are seen trying their best to woo a foreign girl.
Since the song is a Rajastani folk number, there is a lot of sand on the sets. The song has a candy floss concept. There are also a lot of huge red and white candies being used as the props to match with the English lyrics of the song. There are a lot of lights being used on the set. Also, a lot of vibrant colours are used for the song.
The song is called 'The butterfly song.' So the costume and dance moments are also like a butterfly. A lot of energy is involved in making the video. Riteish and Aftab were dancing pretty well and did not require many retakes for the shots.
Coming to the get ups, Riteish and Aftab are in black hats and black jackets which remind one of Micheal Jackson. This was only one of the sets of the song. It will also be shot in two other sets.
Here are some pics of the promo shooting: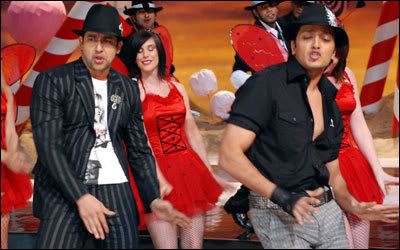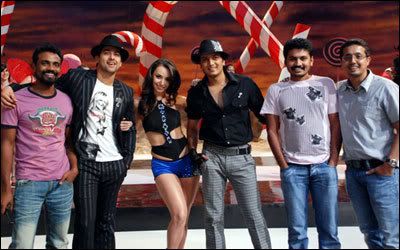 Source:
http://movies.indiatimes.com/News__Gossip/News/Fun_on_the_se ts_of_De_Taali/articleshow/msid-3048312,curpg-1.cms