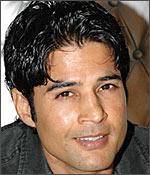 src="/uim/include/movies_top.htm" type=text/javascript> src="http://www.rediff.com/uim/incl ude/flash.htm" type=text/javascript>
Advertisement

May 05, 2008 16:08 IST


Some actors would go to any lengths to bag a role.

And then there are some like Rajeev Khandelwal who would go to extreme lengths to look convincing in a role.

For his role in Aamir, the handsome actor of popular serials like Kahin To Hoga, Kya Hadsa Kya Haqeeqat and Left Right Left will be seen in the same outfit from start to finish.

Also Read: 'No more serials for me'

Set in the Muslim dominated, but poor, areas of Mumbai, the film explores the seedy life of the city through Rajeev's character, who finds himself lost in the streets.

And like the professional he is, Rajeev insisted on wearing the same filthy shirt throughout the shooting of the film.

Says Director Rajkumar Gupta, "We bought few shirts of the same size, colour and brand but Rajeev insisted that he should continue with the same shirt so that it would look real."

He adds, "Rajeev, however dried his shirt in sun and also applied lot of perfume on it to make the ordeal a little more bearable."