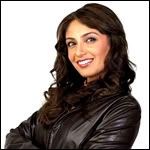 Channel: Star One
Producers: Ronnie Screwvala, Zarina Mehta & Deven Khote (UTV)
Director: Hansal Mehta
Featuring: Dara Singh, Bharat Kapoor, Sri Vallabh Vyas, Yusuf Hussain, Meher Kamal, Sachin Tyagi, Sujata Chowdhury, Rushali Arora,...
Year: 2004


Jai Chauhan is a Harvard-educated, smiling, well-spoken, gentle NRI who lives in New York with his wife Shyamali, his son Rahul, his daughter Nikki, and his nephew Aditya. It all begins on Jai and Shyamali's marriage anniversary when Jai gets a call that his Dadaji is in a critical condition. Jai rushes back to India and, to his biggest shock, discovers that the Dadaji he revered is India's biggest don! But that's not all, Jai is asked by his Dadaji to take over the "Family Business." As a result, Jai's world of innocence crumbles. Confounded by the deception, he decides to leave for New York. But fate has something more in store… At the airport, there is a shootout and one of the soldiers loyal to Dadaji sacrifices his life for Jai. A stunned Jai realizes that whatever Dadaji might have done, he looked after the people he cared for and he was loved. This is the turning point in Jai's life—he lifts the dead man and with that the mantle of the Family Business bequeathed to him… ?

Episode 1
Watch: P1 P2 P3 P4
Download: P1 P2 P3 P4


Episode 2
Watch: P1 P2 P3 P4 P5
Download: P1 P2 P3 P4 P5


Episode 3
Watch: P1 P2 P3 P4 P5
Download: P1 P2 P3 P4 P5

I'm sorry, but I have no time to continue posting videos because of school. Episode 3 will be my last video update. Again, I'm extremely sorry and request anyone else to post the videos of Family Business!


Edited by kskies2 - 16 May 2008 at 11:25pm