Tudwa Pyar: Triplet Love
Concept: The story of identical triplets. Ranbir, Eklavya, and Akash Nanda. (I know very interesting.) And how their lives change dramatically!
Please leave your comments about the concept! Will be adding the storyline & characters soon.

So if you want to have a part in the story e-mail me your name & picture to suga_nain@hotmail.com!

And believe me this is going to be a hot story! Who knows you might be paired with one of the characters!
To be in the story (Send Me your):
1.) Real First Name
2.) I-F screen name
3.) Picture (requested, but you don't have to)
SugaNain's previous Fan-Fictions:
Pyar Kiya Toh Darna Kya? - Ranbir & Kanya Story*Finished*
Pyar Ki Presents- A sequel to PKTDK?*Active*
Tudwa Pyar - A triplet love story *Active*
Character Description
Eklavya Nanda: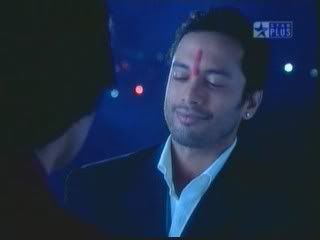 Eklavya Nanda- also known by his twin brothers as "Don't touch me Nanda." He respects woman but has not dated anyone in his 26 years of life on Earth. He is a total believer in God & always goes to any religious ceremony of any religion. The guy has a good heart! He is one of the owners of the Nanda Company and a loyal person to both brothers. He is the youngest and is the pushover. His main talent is painting, and wishes to become a painter. Will that dream be fufilled? Who will inspire him?
Ranbir Nanda
Ranbir Nanda: he is a total playboy and is the only person in the triplets who has no ambition in life except make money & hangout with woman. Although he does have a soft heart when it comes to one girl in his life "his Dadi." He is the only one that goes to Nanda Oil Company to pick up his check. He believes that $ will get you to the top. He has no plans of marriage but doesn't mind hanging out with woman unlike his younger brother "Don't touch me Nanda." But somewhere in Ranbir's heart he wants that woman who will capture his heart! Will he find that woman?
Akash Nanda
Akash Nanda:the most ambitious of the triplets. He wants to make something of himself. Although works and part owner of the Nanda Oil Company, he wants to do something else and make his single mom extremely proud. He respects woman & unlike his brother Eklavya, wants to have a steady relationship with someone. But marriage is not on his plans. His hobbies are karate & soccer. Will he find his steady girlfriend & end up in marriage?
Nanda Brothers Story

The Nanda Brothers own a Oil Company in Brooklyn, NY. They have their mother and Dadi. Their father died when a Drunk Driver killed him. What will happen when the women of their lives enter into their worlds?

Shah Sisters

Attorney: Sunaina Ali Shah( Nickname: Nain)
Sunaina Ali Shah: played by me (suganain) Is a fraternal twin sister and middle child of the Shah sisters. She enjoys karate & DJ at her own Club SugaNain. (She is DJ SugaNain") She is very protective of her sisters. She does not believe in marriage either and believes the independent life is the way to go. She is a attorney in Business and handles business problems for big businesses. Her sisters think she works to much! & should take a break. She did want to settle down one point in her life. But one man changed her view on love! Will she find love again?
Sara Naz Shah
Dr.Sara Naz Shah: played by (dilkeroshni) She is a Doctor a Leukemia Specialist. She is the oldest of the Shah sisters & makes sure the rest of the sisters knows this. She is most connected to her youngest sister (you will know why.) She does believe in love & wants to find a man in her life. She wants to adopt lots of kids. She thinks that Sharukh Khan is soo hot! Will she find her one true love?
Kashish Sara Shah (Kanya)
Kashish Sara Shah: Kashish nickname is Kanya.. and she wants to remain one. She is the youngest of the twins & works with her sister Sara at her hospital Shah Sister Hospital. She wants to do some sort of business so she can help her sisters out. She believes in love, but wants to remain single so she can be with her sisters. She is in remission from leukemia. She is a strong woman, but gets scared of Fire. Because she witnessed her mother flamed by her father. (Don't worry no Natasha) Will Kashish's flame be tamed? Or will her match not be so matchable?
The Shah Sisters Story
The Shah Sisters are independent woman living in Queens, NY. Their father burned their mother alive and is currently in jail. All three woman live in a penthouse apartment in Manhattan and are successful. What happens when they meet the men in their lives?
Contents
Click On the link!


Part 1:Introducing.......
Part 2:Sister Sister!
Part 3:Flirt! Flirt!..
Rest of the characters will be added. But these are the main characters.


Edited by suganain - 25 September 2009 at 2:49pm