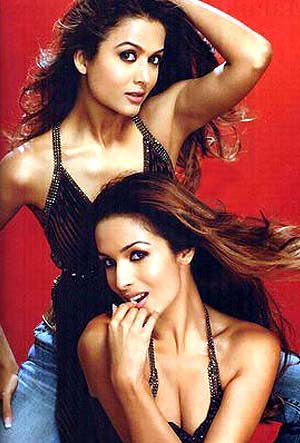 Malaika Arora Khan - Amrita Arora: Not So Leggy
There's no denying she's still here. But may we ask, what exactly is she doing? Once-popular-VJ Amrita Arora has not managed to create the slightest ripple with her acting skills. She has done smaller films where her characters are hard to recall.
She is sister of Malaika Arora Khan, who has become a sex symbol of sorts for Bollywood. Malaika is a popular host and dancer.
While Amrita could not make her mark as an actress, the latest is that Malaika is in fact thinking of taking a shot at it. Amrita is of course still trying. But the media and the public are only always curious about her celebrity boyfriends including Upen Patel and English cricketer Usman Afzaal.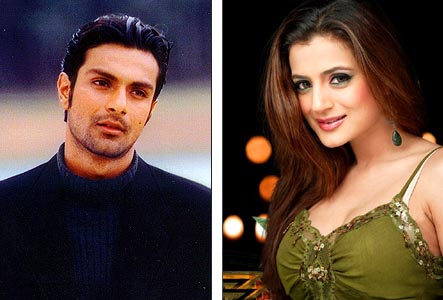 Amisha - Ashmit Patel: Come Undone
Amisha Patel started off with a great film.
Kaho Naa Pyaar Hai
was an ideal beginning for someone who doesn't belong to a Bollywood family. While she has disappointed fans with the films she did after that, she is still reckoned as one of the better actresses of Bollywood.
Younger brother Ashmit Patel has been a bigger disaster. He might have got some amount of popularity with films like
Murder
but his only real claim to fame was an MMS scandal with Riya Sen. One hasn't seen much of the sibling since. We can only wait for the wheels of fortune to turn on him.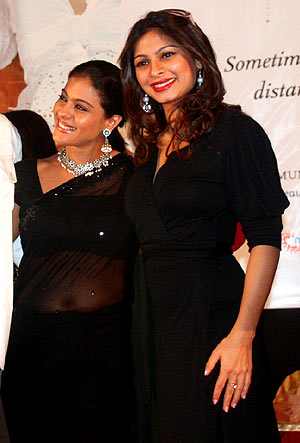 Kajol - Tanisha: Come, Come, Coming...
With a mother like Tanuja and a brilliant actress sister like Kajol, Tanisha seemed to be a promising young star. She gave great interviews before her launch and seemed to follow in her sister's opinionated footsteps.
Unfortunately, her films, including
Sssshhh
and
Neal n Nikki
didn't do much for her career. Her acting is nothing much to speak about and she is definitely out of the audience's mind. Luckily for her, being Kajol's sister has helped. Tanisha has two releases lined up in 2008 so let's hope this time things work out for this little sister.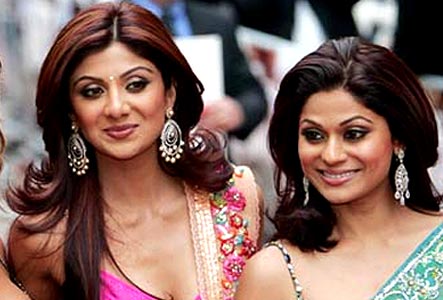 Shilpa - Shamita Shetty: Do We See Anything Here?
Shilpa started with a bang, fizzled a bit and then really soared with
Big Brother
.
Shamita however, seems to be stuck on item numbers. While her debut with
Mohabbatein
seemed promising, great offers didn't come her way. Even her film
Fareb
with sister Shilpa didn't do much for her career. Shamita's still struggling to get her focus right. But looks like it'll take a lot for her to mend her career now.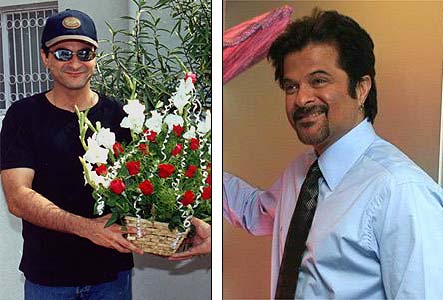 Anil - Sanjay Kapoor: It's a Wondrous Flop
There is no parallel to Anil Kapoor in the industry. He has been doing great roles when actors of his era have already receded into oblivion.
But brother Sanjay? Well, his is an another story. When the star arrived, the biggest female names in Bollywood agreed to work with him. He began his career with Tabu in
Prem
and did a film titled
Raja
opposite Madhuri Dixit Nene. While
Prem
collapsed at the BO,
Raja
was a reasonable hit. But all credit went to Madhuri. He consistently delivered flops after that but didn't leave the arena without trying enough. He tried to rise many a times, but the Phoenix doesn't seem to be in his favour.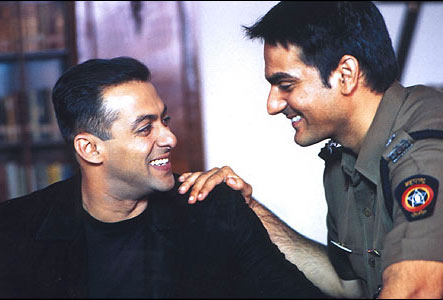 Salman - Arbaaz & Sohail Khan: Hello Brothers!
They are very famous 'brothers' of the utterly famous Salman Khan. Unfortunately - not so famous for their acting. We don't know when actor Arbaaz came and went by. He did reasonably good roles in
Pyar Kiya to Darna Kya
and
Hello Brother
. But luck didn't seem to favour him so much. He has only been seen making some special appearances since and is better known as sexy Malaika's husband. Same with Sohail Khan. Sohail started his career as producer and director with the film
Auzaar
. But his debut as an actor in
Maine Dil Tujhko Diya
didn't go down well with the audience. He was also seen in films like
Fight Club
and
Krishna Cottage
. But with no hits to his credit he makes for a flop sibling brother along side Arbaaz.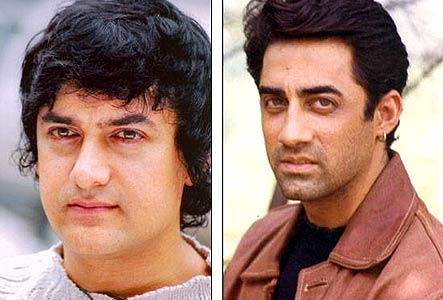 Aamir - Faisal Khan: Legal Affairs
Faisal is a flop sibling brother of the impeccable Aamir Khan. He was last seen in the movie
Mela
with brother Aamir. Nothing of him was seen after that till a legal squabble between the two made mainstream headlines.
Aamir and his father Tahir Hussain were caught in a custody battle over an allegedly unstable Faisal that went in favour of the father. The story seemed over then. But Faisal recently made an appearance at a music release and it is heard he went around telling the media that he has plans to come back to films. Rest assured, it's not going to be a close watch till then.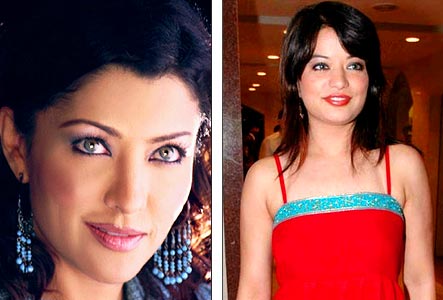 Aditi - Arzoo Govitrikar: Damp Squib
An engineer by profession, Arzoo Govitrikar is the younger sister of pretty lass Aditi Govitrikar. Aditi was a hot on the ramp but her movies went kaput.
Sister Arzoo also tried to make inroads into the Bollywood scene but her career has been rather dismal. One doesn't remember much of her except as the nasty daughter in law in Baghban . Arzoo and Aditi are both pretty girls. Acting seems to have failed them both miserably though.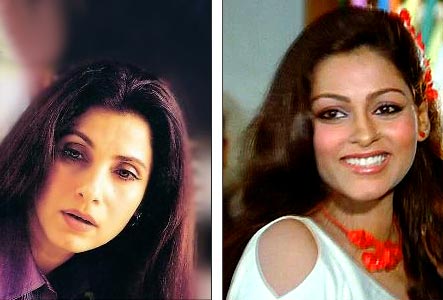 Dimple - Simple: In a Lost World
Simple Kapadia debuted in
Anurodh
opposite Rajesh Khanna. But she never got famous like her popular elder sister Dimple. She did a sensual number in
Lootmaar
in early 1980s and did reasonable roles in films like
Shaaka
and
Jeevan Dhara
.
But fate had other plans. While sister Dimple went on to do greater films and very superior roles, Simple turned costume designer. This was yet another sibling who acting career didn't receive much of a take off.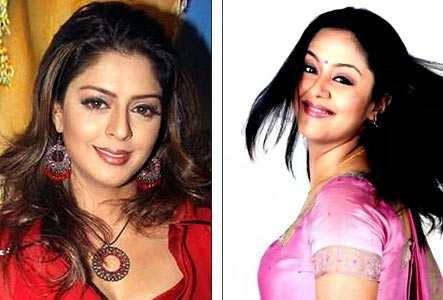 Nagma - Jyothika: Who?
If you can't recall, she is the girl who acted in Priyadarshan's
Doli Sajake Rakhna
. Jyothika is Nagma's little sister. Nagma also had a short stint in Hindi films but did make her mark with films like
Baaghi
alongside Salman Khan.
For Jyothika, her debut film
Doli Sajake Rakhna
was her first and last film in Bollywood. Luckily for her, she was noticed by Tamil and Telugu filmmakers and her releases created quite a stir in the South. Now of course, she is happily married and nursing motherhood. We wish her well.