Hello CFC-ians!
Guys we are really sorry for the delay. Please forgive us.
Well I hope you remember what the Deewani/Deewana contest was all about. If you don't please go here:
http://www.india-forums.com/forum_posts.asp?TID=853958
Now coming to the winners, the winning entry is Deepika Padukone entry sent by Jhanvi_4
Here is her entry:
"Oh my gosh! Deepika Padukone is so sweet. She has this fragrance around her which just beams of roses. You feel like this girl is untouchable but as you take more steps towards her you realize you were looking in the wrong place all together. Where you felt you'd find Deepika up in the clouds flying high after success, you actually bumped into her in the green and heavenly meadows of earth just spreading her wings happily and feeling the air at her face. That's when you were stunned. You pinched yourself to believe it. You held your hand out to see if it was really her. And the came the moment where your hand wisped against her arm and you had touched beauty. You felt like you had just eaten a billion chocolates because her feel was just so sweet. The tall, young, and vibrant angel-like girl smiled at you and at her cheeks crested a dimple. All you could think was, "I was so dumb to be thinking she was an ice maiden. When really, there is so much warmth in her that it can burn the universe all together". Defiant, Fierce, Acknowledgable, and so Dazzling. You lay eyes on her and get greedy. You just want to touch her again. Feel her warmth and love again. But before you can catch her, she dazzles into the meadows and down to the earth's valley. Waiting to bump into someone else who had wronged her and was still seaching in the clouds for her. When really, this Pari, was fluttering in the greatness of the earth all along. Deepika Padukone : The Pari of the Universe."
And here's your winner signature by BengaliChica.
Wait, we also have the runner-ups.
The runner-ups are:
indiandoll89
Here's your signature by sweet_ak92: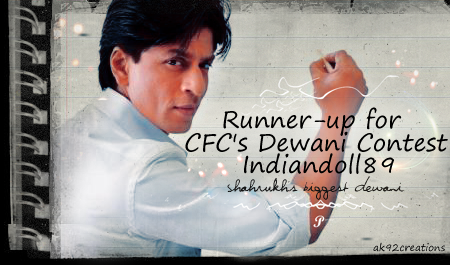 And rajeevamnafan
Here's your signature by sweet_ak92: