The one and only Fidel
K. Natwar Singh
One of history's originals, Fidel Castro is a genuine friend of India. He is not just a very great man. He is a phenomenon.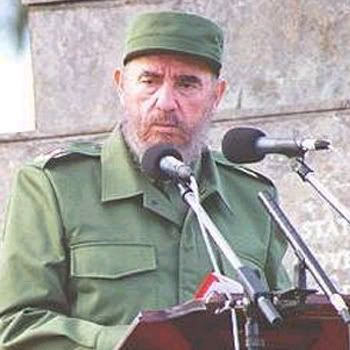 Fidel Castro at the NAM summit in New Delhi in 1983. He is flanked by Prime Minister Indira Gandhi and Natwar Singh.
I know that the regime will try to suppress The truth by all possible means; I know that there will be conspiracy to bury me in oblivion. But my voice will not be stifled- It will rise from my breast even when I feel Most alone, and my heart will give it all The fire that callous cowards deny it…..Condemn me. It does not matter. History will absolve me.
Fidel Castro, 1953.
In politics, success needs the wind at your back. The wind has never deserted Fidel Ruiz Castro during the past 55 years. If it had, the CIA would have eliminated him long ago. He has lived life with exemplary buoyancy and grit.
Mr. Castro is one of history's originals. He radiates self-assurance. A heroic genius who inspires admiration and devotion. In some he evokes fear and rage. He is a star of very high voltage.
How does one describe a great man. The best definition, to my mind, is by Isaiah Berlin (1909-1997): "To call someone a great man is to claim that he has intentionally taken a large step, one far beyond the normal capacities of men, in satisfying, or materially affecting, central human interest ... permanently and radically alters the outlook and values of a significant body of human beings … one of the distinguished characteristics of a great man is that his active intervention makes what seemed highly improbable in fact happen." Ninety miles south of Florida, Mr. Castro has succeeded in making the improbable probable. The only other man who has done so is Nelson Mandela, in South Africa.
I first met him in Havana in late 1982. The seventh non-aligned summit, thanks to President Castro, was to be held in New Delhi in the first week of March 1983. As Secretary-General designate, I proceeded to Havana to seek inspiration and guidance from him. I was suddenly summoned at short notice. After we had finished talking shop, he asked me, "Who are the Gurkhas and what were they doing in the Falkland Islands?"
I presented a short history of the short Gurkhas and their valour and their British connection. I asked what made him think of the Gurkhas. "I am reading a book, 'Annapurna' in which they are frequently mentioned."
I consider meeting living history a rare experience and — yes — honour. Here was a man of luminous charisma, immense natural authority, dignity, and strength.
During the New Delhi summit, I met him several times a day. The photo printed here went round the world. Standing with Mr. Castro and Indira Gandhi, I felt my spirit soar. The opening day of the summit produced a crisis. S.K. Lambah, the Deputy-Secretary General, came to me during the lunch break. "Sir, we have a hell of a problem on our hands. Mr. Yasser Arafat is most upset — he says he felt insulted by being asked to address the opening plenary session after the leader of the Jordanian delegation. Mr. Arafat has already alerted the crew of his aircraft and will leave New Delhi this evening." I immediately informed Indira Gandhi. I also told her that President Castro, till the afternoon session, was still the Chairman and that she should take him into confidence. She acted promptly. She arrived at Vigyan Bhavan in a few minutes. She had also spoken to President Castro. The great man arrived in no time. I narrated the melancholy tale to him. He asked Mr. Arafat to come to Vigyan Bhawan to confer with the outgoing and incoming Chairmen. To watch the Cuban leader handle the temperamental PLO leader was an education. Mr. Arafat reached Vigyan Bhavan in record time. Mr. Castro asked him if he was a friend of Indira Gandhi. The response was something on these lines: "Friend, friend, she is my elder sister and I will do anything for her."
Mr. Castro: "Then behave like a younger brother and attend the afternoon session." It was over in two minutes. Mr. Arafat did as he was told.
Star of the summit
Along with Indira Gandhi, Mr. Castro was the star of the summit. With him he had brought Vice-President Carlos Rafael Rodrigues. He told me, "Your security arrangements need tightening." I said, "our leaders travel freely and security is not such a problem." "You can't be too careful. Fidel has survived many assassination attempts, because our security is impenetrable." How right he was. On October 31, 1984, we lost Mrs. Gandhi.
Mr. Castro made a request to see the film Gandhi. It was impossible to see it in Cuba because of the U.S embargo. After seeing the film, Mr. Carlos Rafael Rodrigues told me: "We are hardcore Marxists, we knew little about Gandhi and his mass appeal, his moral grandeur. It has been a revelation."
Gripping tale
If I remember right, it was on the third day of the summit when I asked Mr. Castro: "When did you meet Nehru first?" "In New York in September 1960." He narrated a gripping tale. No hotel in New York would put him up. He even told U.N Secretary-General Dag Hammarskjold that he would put up a tent in the U.N. compound. Finally, he stayed in a Harlem hotel. "The first person who came to see me was Prime Minister Nehru. I can never forget his magnificent gesture. I was 34 years of age, not widely known. I was tense. Nehru boosted my morale. My tension disappeared."
I too have my Nehru-Castro anecdote. In September 1961, Prime Minister Nehru was to attend the first NAM summit at Belgrade. I was then private secretary to R.K. Nehru, Secretary General of the Ministry of External Affairs. I was present at a meeting at which his Belgrade programme was being worked out. The great man was present. "If Castro attends, I will have to spend an extra day in Belgrade. Castro will as usual make a six-hour speech."
In 1987, I led a delegation to Havana. At my meeting with President Castro, he said something very striking: "I had been elected Chairman of NAM in October 1979. In December 1979 the Soviets marched into Afghanistan. They did not even inform me — what do you think it did to my NAM chairmanship? All but destroyed it. They sent to Kabul a government in a suitcase." This was a reference to Mr. Karmal being sent to Kabul from Moscow. I remember reporting this highly lively conversation to Prime Minister Rajiv Gandhi, who was most amused.
During that trip a photo was taken of myself, President Castro and the noble laureate, Gabriel Garcia Marquez. It is one of my prize possessions.
In 1988, Rajiv Gandhi had a six hour meeting in Havana with President Castro. I was also present. So was Mr. Carlos Rafael Rodrigues. Mr. Castro's masterly survey of the world scene and his candid opinion of the ever-changing contours of American foreign policy have remained etched in my mind.
Mr. Castro is a most-admired, genuine friend of India. He is not just a very great man. He is a phenomenon. He has retired, but not out. May he live many more years. In his own way he has on, several occasions, set the time table of mankind.
source : The HINDU Newspaper
*************************************
Dear Friends!
Happy Easter, belate Holi and Id wishes
coming back to the topic.....
Does any nation dare to fight with USA?
Some exceptions like Castro are there...but still....
Can any nation survive without the blessings of USA?
or atleast
Is there any successful nation which is prospered after fighting with USA?
Can India become like Cuba...self sustained....non dependent on USA?