Originally posted by indiandoll89
I see it first!!
Happy Birthday again Shellz!!!
Awesome post Aji!
Thank youuuu chooooo much Meeraaa!
Thanks sooo much for all your birthday wishesss!
Originally posted by pinkbubblez
Thanks Meeri
Happy Birthday once again Shellz
Thankss so much Ajiii
Originally posted by ~*manai*~
hapyyyyyyyyyyyy birthdayyyyyyyyy my sweetuuuuuuuuuuuu sweet 16!!!!!!!! meeeeee soooooo happy for you have a great day!
great post aji!
Thank youu chooooo much Manii!
Thanks for the wonderful siggy once again!
Originally posted by *Ayesha007*
HAPPPPY BIRTHDAYYYYYYYYYYYYY Shellzz
Awesmee post Aji as alwayzz
You are an awesome friendd..i love u sooo muchhhhhhhhhh
Hope all you dreams come truee..Have a blastttt
Thaaaanks Ashuuu
Awwwww, I lovee you too. Thanks!!
Originally posted by xoxonisha143

Awwwwwwww Happyyyyy Birthdayyyyyyyyy Shellzzzz
Awwww, thanks Nishhhh!
Originally posted by *~Anza~*
Happy Birthday twinnie
OMG! Where've youuu beeen, Twinnie!! Me ishhh mad at youu noww!
No talkk, or see in sooooo longg yaar. Thank youuu sooo much thoughh!
Originally posted by **~SoniHinnU~**

Shelluuuuu
Happy birthday hunnn!!!
Im so glad I became a Ranbir fan...if I didnt then I would have probably never known u!
hope u have a greattt bdayyyy and my gift for uuu ishhh
RANBIR KAPOOR!!!
hehe...u cna keep him foreverrr ;)
Love youuu xxx
Hinuuuuuu!
Awww! Thank youuu choo muchh. Ahhhh i can keep him forever?
Yay!
Thank uuu Hinnu! Love youu too
Originally posted by shivani33
happy birthday shelly. u are so sweet n nice and a great siggymaker.i wish all ur dreams come true on ur birthday.enjoy ur sweet sixteen. happy birthday.
[<:-P.
love u.
a siggy for u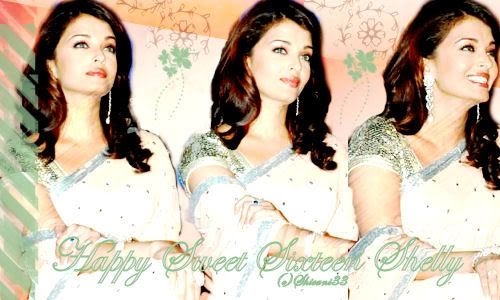 i hope u like it.
Awwww, that's soo sweet. Thanks Shivani!
Will use the sigg sooon! Thanksss hun!
Originally posted by Nancy_89

Ok don't know how many times I have already wished but going to do it again.
Many many returns of the day.

Have a blast.

Here is my gift hope you like it.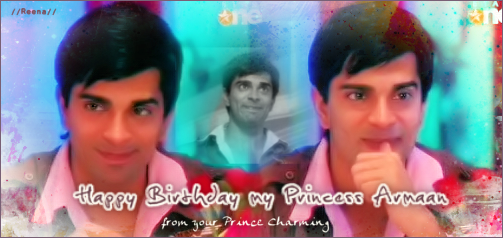 Prince Charmingggg aka Nancyyy!
Thank youuu soo much for all your birthday wishes. Thanks for the gorgeous siggy as well. Already using it!
Thank uuuu! Love ya!
Originally posted by *4rom heaven*
happy birthday once again shellz, hope u'll ave a blast hun!!
*hugs*
Thanks Zainuuuu!
Thnxx for the awesome siggy as well!
Love youu!
Originally posted by mz.jess
Happy Birthday Once Again! Ilubyou!
Thanks Jessiii!
Loved the sigg, by the way. Will use sooon!
Love you too!
Originally posted by gk_09
Happy Sweet Sixteen Shelly!
Hope you have a fantastic day filled with masti and love. May all your wishes and dreams come true. Hope this coming year brings loads of success and happiness into your life.
Love you more than you can imagine!
~ Gurpz
Gurpzzzz!!
Thank youu sooo muchh! Very sweet message. Loveeee youuu
Thank you soo much everyone for your wishes and gifts! Thanks for making my day even more special!