Meet Soundarya Rajnikanth
Meet Soundarya Rajnikanth.
Tamil superstar Rajnikanth's younger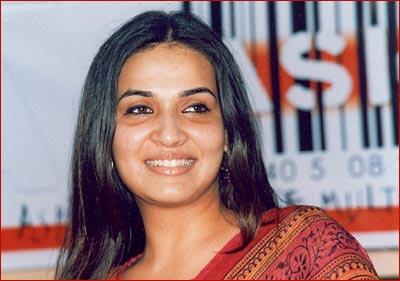 daughter, who was hidden from the public eye all these years.
The girl had her first brush with the media recently when she inaugurated a centre run by her mother, the Ashram School of Multimedia and Graphics.
Soundarya, who can give most Tamil movie heroines a run for their money, arrived with her mother Latha.
Latha said her daughter has always been a creative personality. Which is why Soundarya heads the Ashram's new venture.
Soundarya, Latha added, is doing a course in art in Australia. She has taken a break to set up this centre.
Soundarya read out a brief statement in clipped English which her mother translated into Tamil for the benefit of the Tamil press.
Text: Shobha Warrier. Photograph: Sreeram Selvaraj