Hello Friends,
You might be thinking that how come today is the birthday of a peanut? Well, its not just the birthday of peanut, its the birthday of butter as well..
Jan. 12 was the day when Peanut butterr was born. So, lets wish our Peanut butter of IF aka Kajal a very happy Birthday!
Happy Birthday to you..
Happy Birthday to you....
Happy Birthday Dear Kajal
Happy Birthday to you!!
Happy Birthday Kajal
Here are some messages for you meri jaan
From Nitu07:
Hey Kajal....
wondering who is this gal???...........
......ummm......I am a spy
...actually I am ur friend's friend and ur friends's sis...confusing eh?? ..My sis (pradipta)and my friend(ishiiiiii) has told me a lot abt u and see....I know u even tho I don't know u
...........

HAPPY B"DAY

HAve a wonderful b'day b'day and have a blast
nitu
From Indianhomey1992:
KAJALLL!!!!!!!!!!
Boyy do I miss you hunniee!!
Come back!
Ahhh and now you're a year older too!! Happy birthday my jaan..!!
Have a blast!



From *Sweet_Ishu*
Kajal meri jaan
Wish you a very Happy Birthday dear.
May all your dreams and wishes be fulfilled. I hope this birthday brings lots and lots of happiness and success in your life.
I miss you so much dear.
Please come back.
Here is a small gift i made for you. Hope you like it.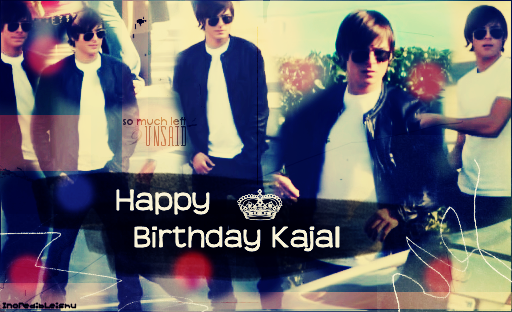 We all want to wish you a very Happy Birthday. Here is something for you from all the members of India-forums.

Love
Isha


Edited by *Sweet_Ishu* - 12 January 2008 at 1:11pm