~*GIFTS*~
As mentioned before, please don't forget to thank your Secret Santa by PM or however you wish
Also, if they have given you a siggy, try and use it
For simplicity, I've put the gifts in the same order as the table above!
...Now for the gifts!!...
1. Rajeev Ki Heer (from Adi''s_GirL)

2. Adi''s_Girl (from *Eva*)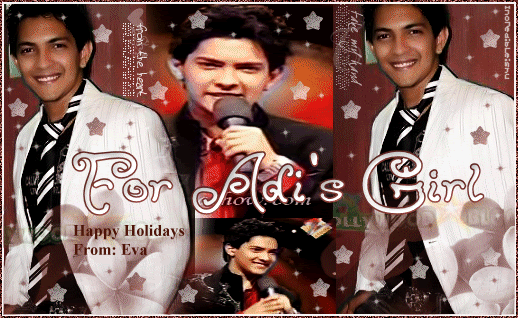 3. Varallika (from love srk)

4. nidhi2013 (from amail1601)

5. farislove (from fizzwizz)

6. amail1601 (from Rajeev ki Heer)
7. rah_akki (from mz.jess)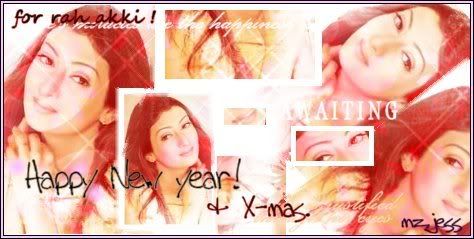 8. SAHELIGSWM (from Mrs.SalmanKhan)
9. *Eva* (from varallika)

10. animerocks (from *~Anjali~*)
Jay Bhanushali
http://i14.tinypic.com/8fma6o9.gif
Preity Zinta
http://i9.tinypic.com/8a1s6kn.gif
Sharad Malhotra
http://i3.tinypic.com/6uizmnp.gif
Andy
http://i9.tinypic.com/8a2r683.png
Divya
http://i7.tinypic.com/6nw72c8.gif
Priyanka
http://i1.tinypic.com/8bp41fk.jpg
Shahid Kapoor
http://i14.tinypic.com/6tpn4tf.png
SRK
http://i3.tinypic.com/7xo0ksl.png
Zayed Khan
http://i16.tinypic.com/6taz8g4.png
Panchi Bora
http://i2.tinypic.com/833o3ex.png
Vivan and Neha
http://i8.tinypic.com/834d1ea.png
http://i5.tinypic.com/6yezw3p.gif
11. ~*Miley_Fan#1*~ (from Lefty.Chicha)
12. ~Deep~ (from *mansibhatia*)




13. fizzwizz (from fariha17)
Hellooo Faryal !
I really don't know you, but have seen many of your posts around I-F and I can say for sure...you're a really sweet person.
Another thing...when I was in Pakistan, I had a friend whose entire family would always call me Faryal
so your name reminds me of that friend
Anyway, I didn't know who your most favorite celebrities were, so I just picked one from your slambook
Here are a few presents from me
Hope you like all the gifts
Love,

Fariha
14. Temi (from SAHELIGSWM)
This is a cartoon videomix:
http://www.zshare.net/video/593068382f4906/
15. mz.jess (from veryuniquestyle)
16. fariha17 (from animerocks)
17. komalash (from basanti_diya)
Merry Christmas Hun and Have a blast and all the best for your future
Love Diya
18. Tiya_I (from ~Deep~)
Did you guess it could have been me?
I have never spoken to you being myself, only by being SS and that too through Luvneet, so I'll actually be surprised if you managed to guess me!
Looks like you're a very active person in the CFC section!
Tried to find out more about you, so your gift could be something you would like.. But as you're a member of several FC's you've made my task a bit harder! How do I get all of them into one sig?
And that to when I've only made one sig ever so far!
Hehe..
But I'm choosing one of your favourites! (By looking at your current sigs and the one you opened a FC for!
)
Here you go!
PS: You don't have to use it..
And hopefully we'll stay in touch even after the SS..
19. basanti_diya (from Tiya_I)


20. Lefty.Chicha (from farislove) http://i9.tinypic.com/6pg2d0l.jpg
21. kawaaii_uru (from navreen1515)
22. *~Anjali~* (from nidhi2013)
flower for beautiful gal
sweet for sweetie
dress for fairy
( i dunno that u were western dresses or not thats y
)
matching accessories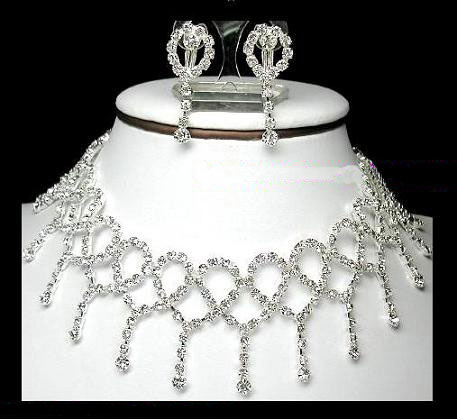 now wishing u
last and spl gift
hope u like it
23. Leenasmg (from kawaaii_uru)
A little present for you Leena ...
Hope you liked it......
Reg,
Urvashi
24. sonalkhullar (from **Sanchita**)
25. navreen1515 (from rah_akki)
26. **Sanchita** (from Temi)
27. veryuniquestyle (from sonalkhullar)
28. Mrs.SalmanKhan (from komalash)




http://i216.photobucket.com/albums/cc227/k4komall/komalss.gi f [Direct link]
Hope u liked it,
Komal


29. *mansibhatia* (from ~*Miley_Fan#1*~)
30. love srk (from Leenasmg)