Welcome to Priyanka Bassi Chat Lounge
~~~~~~~~~~~~~~~~~~~~~~~~~~~~~~~~~~~~~~~~~~~~~~
Priyanka Bassi......an extremely beautiful n talented girl....whose eyes express more than what words can convey.
A powerhouse of energy.....
She started her career with a bang.....doing a highly daring role in Bombay Talking, which exposed the hypocrisy present in the film industry n fashion circuit...n was even nominated for that role as the Best Newcomer.
Now she is being seen as Naina Singh Ahluwalia in the highly popular show Left Right Left...another show with a difference.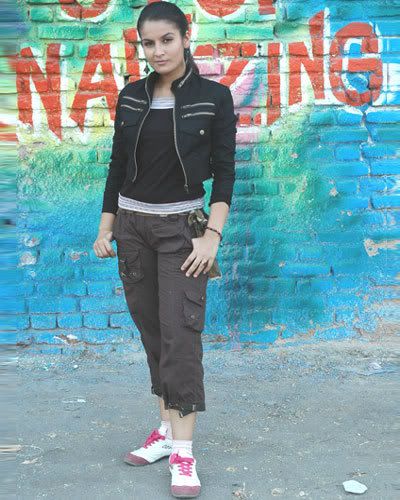 She has also starred in ads like for Santoor.
Her characters:
Sheena(BT)
An aspiring actress who faces problems like casting couch n harassers while trying to fulfill her dreams.
Naina Singh Ahluwalia(LRL)
A simple girl who joins a military academy(KMA) to find n punish the killers of her beloved brother, who had been framed n proven a traitor...Naina has to battle the system n face many disappointments, n the loss of her mentor..Captain Rajveer.
Her journey is an inspiration for all.
~~~~~~~~~~~~~~~~~~~~~~~~~~~~~~~~~~~~~~~~~~~~~~~~~~~~~
Dedications
You are in my world, my life
As simple as it may be,
I want you near, hand in hand
To walk love's journey with me.

I cannot not offer you treasures untold
Or your days always bright,
But I give to you all I am
And cherish you day and night.

You are wonderful, strong,
Everything I have ever wished for,
You are here beside me
And each day I love you more.
Our love is growing
Not one single day do I regret,
Our love has flourished and bloomed
And it started the day we met.
Here is the siggy for the CC made by Ammu
Loungers
iiwafa - Imran
amail1601 - Ammu
pinka_anshu - Priyanka
lrllover- Nishant
daisy_luvs_ ff - Daisy
Master _Blaster - Mannu
~~ashi~~-Ashi
aarsow-Aarthi
captain_ranveer-Ranveer
CINDRELLA-Preeti
rani2310-Ranita
sweety_rajveer - Tazy
sateera_angad - Seetu


Edited by lrllover - 20 December 2007 at 6:19am