Hi friends
,
Left Right Left airs on SAB TV at 9.30 p.m. IST from Monday to Thursday. The show is now in its second season.
Based in an army school, Left Right Left is a story about 6 confused, dis-oriented youths on their way to finding their destiny. And this journey makes them strong and determined individuals from different walks of life. Left Right Left represents the youth of today and their love for their country. This show revolves mainly around the people of the army school, Kahnchjhunga Military academy (KMA), Ambala Cantt.
The stars of the show
KMA's Faculty
1- Captain Rajveer Singh Shekhawat-played by Rajeev Khandelwal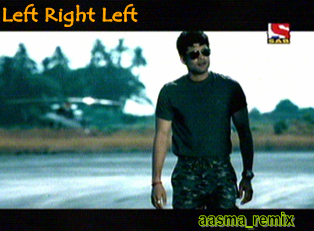 Capt. Rajveer is a favourite amongst the students in KMA. He is the one who instills confidence and love for the country among the cadets, gives them courage to keep going and face all the hardships in life. Although, he is a teacher of Strategies and Communication, but he is actually on a secret mission to nail the spy who is trying to steal the nuclear triggers. Also a batchmate and best friend of Capt. Naveen Singh Ahluwalia, he tries to help Naina in her struggle to prove her brother's innocence.Rajveer singh is best job in KMA And all student best gaidence.
2 - Dr.Ritu Mishra (former character) -played by Shveta Salve
Dr.Ritu who entered the academy as a psychiatrist was actually a spy. She was Naveen's girlfriend.She even tried to befriend Rajveer and get engaged to him. Finally, Rajveer killed her.
3- Dr.Shalini-played by Aparna Tilak
She is the doctor in the academy, who also has a knack for match-making.
4- Captain Abhimanyu Rai Chauhan-played by Gaurav Chopra
He is an old friend of Rajveer and Navin who has come back to the Academy. His posting in KMA as a music teacher is basically to give him some rest from the tough posting at Leh. The uncrowned Prince of Bahmer, he doesn't like it when people try to treat him in a royal way and judge him according to his father's status. He has also joined Naina and Rajveer in their struggle to prove Navin's innocence.
& Other important faculty members....
Brigder Chandok (BC) played by Puneet Isar
Captain Naveen Singh Ahluwalia played by Samir Sharma
Surijii Played by Sanjeev Mehra
-----
The bad guys:
Gehlot (Lala) played by Rajesh Khattar
Major Barghav played by Rajesh Khera
Major Nair played by Deepraaj Rana
------
KMA's Cadets
1- Cadet Aalekh Sharma-played by Arjun Bijlani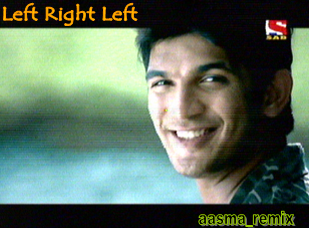 Aalekh also known as 'Qaidi' (prisoner) has had a miserable past. He lost his parents during his chilhood and was brought up at an orphanage. Although he is a straight-forward person, he indulges in bad habits especially drinking. He is good friends with Cadet Naina. He is about to wed Neelu, Cadet Yudi's younger sister.
2- Cadet Ali Baig-played by Harshad Chopda
Cadet Ali Baig, popularly known as Usool (principle) Bhai (brother), belongs to a middle class family of Kanpur. His grandfather and father both served as subedars in the Indian Army, and so it is Ali's dream to be a high ranking officer in the Indian Army. He is very focused in life, but he follows his set of principles of morality and truth. As for his personal life, he is in love with his classmate Cadet Pooja Ghai.
3- Cadet Yadhuvansh Sahni"- played by Kunal Kapoor
Yudi (short for Yadhuvansh Sahni), son of a businessman, came to the academy to attain "freedom", yes freedom from his parents and their constant bickering. Unfortunately for him, he is often teased by his friends for "not being a man", and being scared of adventures. As a result,he gives in to the pressure from his parents and goes to the States to become a software engineer. But he soon realises that KMA is where he wants to be, and rejoins the Academy.
4- Cadet Pooja Ghai-played by Gazal Rai
Pooja is a typical Punjabi kudi, but with a difference,she is the GSM network of the Academy. She joined the Academy to search for her fiance Rohit, who left her stranded on the day of their wedding. Nowadays, she is the target of the new Principal, Major Nair, a misogynist. She is known for her mobile lingo.
5- Cadet Amardeep Huda-played by Vikas Manaktala
Huda is from Haryana. He came to the Academy because he lost a bet to his parents, but having realised his love for his country, now is determined to be a great cadet and then, a great army officer. On the other hand, he is a complete casanova, and can woo any girl in a few seconds, except Cadet Naina Singh, his love interest in the show.
6- Cadet Naina Singh Ahluwalia-played by Priyanka Bassi
Naina's soul purpose in life and joining KMA, is to prove her brother Captain Navin Singh Ahluwalia (declared a traitor by the Army) innocent. Courageous, forthright, focussed are the only words that describe this Cadet.
------
So all LRL fans for both season 1 & 2, join this FC to discuss ur favourite moments of this show.....
Note: Don't discuss HN or RN, as there is an individual FC for it....
Love,
Zee & Saheli
Moderator's Note:
PLEASE DO NOT DISCUSS RAJEEV/NAINA OR HUDA/NAINA AS THERE ARE INDIVIDUAL FC'S FOR THOSE TWO


Edited by preity*zinta - 25 November 2007 at 9:58am