Welcome

to


Rajeev's Moon Lit world


Rajeev Khandelwal




Stare at the picture
For as long as you can
Lets see how much
you suceed to mermerise the beuty

Try recollecting the image
into ur calm mind
lets see how much
you hv learnt about him

Put this image as Desktop Wallpaper
lie on ur pilow
then glance at this pic
look n stare continuosly

Try recollecting the image
into ur calm mind
lets see how much
u have learnt of him


If u r a normal human being.....
in no time u will fall in love with this pic.....
If not.......it meanss teress some deficiencyy f certain elementss in uuu!!!!

Me minne,
proud lil sis of Rajeev Khandelwal
is indeed delighted to take u to the
Tour of Rajeev's hut
Firstlyy letss see where the Sweeto sprouted up from

born on 16th Oct 1975,as a laaadla of his parents in the Pink City of Jaipur.

Had father in Army,hence was brought up in an Army manner.

Took BSc in Chemistry and produced many documentries.

Then took a flight to Mumbai,were he worked hard to achieve his dreams and goals.

His Shows

Kya Hadsa Kya Haqeekat (Sony):
He made his debut with his show portraying a conspiring husband..who would go to any extent to lay his hands on his wife's property and was even ready to prove her mad...


Kahin To Hoga (Star plus):
It is probably this show which gave him the real recognition and acceptance into the telly world. He portrayed the character of Sujal Grewal which brought him enormous success. Like all other balaji shows..this show too revolved around 5 women..but Rajeev's aura was such that he dominated the show in spite of having multiple parallel leads.The arrogant and obsessed lover that he played made women of all ages go mad after him. Though the show was scheduled for 11 pm in the night, people of all age groups stayed up just for one glimpse of their heart-throb.The emotions which he portrayed through his eyes......remain evergreen and etched in the hearts of his fans even today .
Time Bomb (Zee)
When he thought that Sujal's character was not shaping up properly he opted out of Kahin To Hoga. Many of his fans wanted him to come back but he is not a kind of person who would just do the serial for the sake of money or popularity. Rajeev signed a new serial on ZEE T.V called Time Bomb . under ketan Meheta's direction. Time Bomb had also got other good actors like Kay Kay Menon and Akashdeep but the role of Varun Awasthi played by Rajeev was appreciated the most. The character of Varun was very different from Sujal of Kahin To Hoga. And though the show did not go too well with the audience.....it resurrected a dying channel and helped Rajeev prove his point: VERSITALITY.

Sun Le Na (Ary Digital..Pakistan):
After his successful pairing and superb chemistry with Aamna Shariff in KTH...reputed Pakistani director Humayun casted them together in another project called sun le na in Pakistan. Though the show was short.. it was very much enjoyed.
CID (Sony):
He played the role of ACP Prithviraj Chauhan. Though it was only a cameo, his efforts did not go unnoticed and he won high praises including an award for the cameo
Deal Ya No Deal (Sony):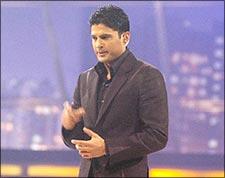 He continued his quest for versitality and emerged as the third host for the reality game show. The previous two hosts being Madhavan and Mandira....it was quite challenging for someone with no experience as a host to get into their shoes. But Rajeev took it in his stride. Initially he was subjected to criticism but finally he efforts did not go in vain and he got noticed. Offers for hosting kept pouring in after the show, only showing that somewhere he had left his mark.
Left Right Left (Sab):



After almost a year of quitting KTH..he returned to the world of daily shows but with a character very different from what he had played untill then . Capt. Rajveer Singh Shekawat became very popular among the audience in no time and was especially a phenominal success with the younger age groups which finally seemed to have got a show of their choice, something different from the saas bahu sagas. Though Sab was a very small channel the show did well and turned out to be the platform for' The Return of The King.'




Awards

Best actor - Golden awards 2007

Best television actor-Sansui 2007

MTV award for the most stylish host-2006

Best Cameo-Sony 2006

Best television personality-ITA 2005

Most stylish actor -MTV 2005

Best television personality-ITA 2004

Best Fresh Face -ITA 2004

Best Jodi - ITA 2004 (with Aamna)

Best jodi -Star Parivaar awards
Heres' a video contributed byy my sweet bhabhi Nida
hvv a look at it!!!
Keep these things in mind

Do not quote big posts,as it makes the FC look untidy,n make it take loong time to load.

Do not post like thanx,and welcome.

Make sure each of ur post has something related to Raj

Do not hurt any other member's felings

Try maximum to avoid posts that could invite fights.
Special note to all Members
Halooooooo
listen carefullyy...sorry read carefullllyy
make this Fanclub the Best!!!!!
Best in the sence neat n tidy n rokking!!!
Thanxx to all of u for giving me the honour to open th FC.
I knoww i cudnt come up to ur expectations.But still me happy with myself cozz atleast i tried.
But next time weneva i get ma chance,i'll make it the best form.
lovv
minnee