Prophecies, Psychic Dreams, Time Slips
Some interesting links I've found this week:
•
Ruth Montgomery's Remarkable Prophecies
-- Her guides told her to look for an absolutely unavoidable shift in the earth's axis and crust around the beginning of this century.
•
Psychic Dreams
-- Do you know that we are actually psychics in our dreams? Research has shown that when we sleep, our left-brain drops its inhibitions and our natural intuition comes roaring to life.
•
The Mystery of Time Slips
-- Time is thought to be unstoppable in its relentless push towards the future. But is it? Here are some interesting thoughts and anecdotes to make us wonder.
PSYCHIC DREAMS
Psychic Dreams - Why do we dream?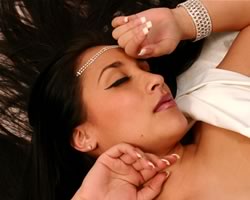 Have you been told to take your head out of dreamland by your mother while you were younger? Well, do you know that we are actually psychics in our dreams? Interesting isn't it? Research has shown that when we sleep, our left-brain drops its inhibitions and our natural intuition comes roaring to life. While dreaming, we are set free from the bonds that tie us to work or family commitments. We are released from the confining quarters of time, body and space.
Dreams interpretation requires traing, skill and psychic insight. Many of the psychics at Psychic Readings are very gifted in dream interpretation. If you would like to find out how dream interpretation and analysis works, please read our dream interpretation page.
Psychic Dreams - Who dreams?
Everyone, regardless of age, dreams. Research has shown that we dream for at least 2 hours every night. In psychic dreams, we see the events of our next waking moment or events that are going to happen maybe months or even years later.
Have you every felt when you see or do something, which you have already experienced before? Well, that feeling is dj vu. This feeling comes when you experience a scene in real life that you may have already dreamt about. If you had have this feeling before you are most probably ingrained into the dream territory already.
Most of us, especially those brought up in the western culture are unaware that dreams are telling us about the future. Only a handful of us are encouraged and coached with the skills to dream true. Most of us are only aware that we dream the future when we are frightened by a dream of a death or a tragedy that happened in real life subsequently after that. Even though dreams of this subject may seem like a curse, if we however keep an eye peeled for details in our dreams, we will soon notice that it does not only involve tragedy but happiness as well.
Being prompted by our dreams of what might be happening in our real life, we can most probably alter the probability of the tragedy by actions that we can take. Our psychic dreams would enable us to take a peek down the road of our life and hence allow and aid us to make better choices.
Paranormal Dreams
Dreams have universally been seen as sometimes having prophetic content. Seeing into the future through dreams customarily has been the province of the priests, shamans, or diviner. Various folklore techniques exist for inducing precognitive dreams though most are of dubious value.
Precognitive dreams may occur once or twice in a person's life, or not at all; some people, especially those who exhibit psychic abilities, seem to have frequent precognitive dreams.
Precognitive dreams, which the dreamer eventually learns to discern from ordinary dreams, are accompanied by feelings and emotions or certain symbols. Some dreams appear to be spontaneously telepathic.
Sigmund Freud observed that "dreams create an environment with conditions favorable to telepathy" and often referred to dream telepathy in his clinical work with patients.

Dream Quote:
"You are born to fly, and in dreams you discover the soul has wings " &nbsp ;
--Robert Moss, Dreamgates
http://www.psychic.com.au/psychic_dreams.htm


Edited by Pensacola.S_02 - 17 November 2007 at 10:29pm