Helloooooo friends and fellow beauticians!!
Now.. you may be thinking... "Ah, but what is this?!"
Well, we at the Fashion Dev. Team wanted to add a bit of masti to the section… so… we bring you our very own… NEWSLETTER!
Here's where we will be reporting back to you all the goings-on in the section!
Throughout the week, we will be your reporters
, gathering together important 'news' we feel you should know and presenting it to you all through our newsletter!
So watch out… or else you'll see your name up here on the wall of shame!
Hehehehe…
Now, let's start… First, we want you guys to meet… well… us! The Fashion & Beauty Devt Team! Just a short, sweet and formal introduction to the fabulous Dev. Team that we are!
We have two wonderful Channel Moderators at the top of the league!
Naughty_n_Nice (aka Sam) & Anon (aka Saira)
Let's give a BIG hand to these two for the great job they do!
Lol! Bad joke, I know...
Next is our fantastically fantastic Moderator!
Gk_09 (aka Gurpz)
You do such a great job gurpz and we love u!!
Finally, last but not least… our gorgeous, excellent, superb
Viewbies!
.:Ashi:. (aka Ashi) & bollycrazy (aka me aka kansha!)
We're all here to help you guys out! Feel free to PM any one of us and we'll be happy to help you out!
Every week, we will have a celebrity of the week, who we can discuss about! That includes anything like how fashionable you think she is, what your views are about her in general, etc. etc.
**However, we will not tolerate any foul language or slating towards the celebrity.
Our first ever Celebrity of the Week is non other than… Bollywood Queen, Rani Mukherjee
Rani was born to a Bengali family on March 21st, 1978. Her debut film was 'Raja Ki Aayegi Baraat' which was released in 1996. Her first successful film was non other than Kuch Kuch Hota Hai staring herself, Shah Rukh Khan and her cousin, Kajol. After this hit, Rani Mukherjee delivered many more hit movies such as Saathiya, Hum Tum, Bunty aur Babli, Yuva and Black.
A few weeks ago , Rani Mukherjee released Laga Chunari Mein Daag, staring herself, Abhishek Bachchan, Konkona Sen & Kunal Kapoor. In about 2 weeks time, Rani is releasing another blockbuster movie with Sanjay Leela Bhansali, Saawariya, staring Ranbir Kapoor, Sonam Kapoor, Salman Khan and herself.
Over these years, Rani has portrayed many different roles and has made a place in everyones heart. Wheather its her role in KKHH as Tina, or in Laaga Chunari Mein Daag as Vaibhavari (Badki). Rani is truly the Rani of Bollywood!
Feel free to discuss your views on Rani or share any info on her that we've missed out!
Now, every week, we're also going to be choosing a Fashion & Beauty Quote for you all to ponder over… Let's see what quote we have for you today…
"Fashion is made to be unfashionable"
by Coco Chanel, the founder of the House of Chanel
Hmm… I can tell you all are confused by that… What does she mean?!
Let me explain… every week we're going to choose a fashionable 'item', which could be a piece of clothing… a cosmetic product… or anything else… I'm sure you get the idea!
But what's the point na? We want to know what you think about it! Whether you would or do wear it? etc.
This week… Our fashion Item of the week is…
There used to a time when belts were only used to keep loose pants up… but now people just wear them to look stylish! And there are now so many different kinds of belts available!
But the question is… Do you like it? Does it look good to u? or just plain silly?!
I'm sure you all will agree with us when we say… Fashion & Beauty is one of the best sections of IF, haina! And what makes us that? You guys, our members of course!
We have many active members, who we want to thank for being so active and great! Every week, we will name three of the most active members right here, in our newsletter!!
We feel our most active members recently have been…
Congrats to these three! You really deserve it!

Many of you have been posting interesting tips all over the forum! We want to take this opportunity to thank you all for your efforts and of course those great tips!
Every week, we're going to acknowledge someone's efforts and post their tip in this newsletter, according to how good and useful we think it is.
Our first ever Newsletter Tip of the Week is…
What is Aloe Vera good for? by evloveme
http://www.india-forums.com/forum_posts.asp?TID=751635
We felt this was a great tip for everyone, as Aloe Vera is such an awesome thing and can help us in so many ways! Do check this tip out and comment on how helpful you think it is!
Thank you to evloveme for posting this great tip!
*Sigh* It's time for our last bit of our first ever newsletter... but! It's an exciting last part!
Yes! Every week, we're going to have a contest for you all to take part in! This week, it is… a Picture Distortion Contest!
We have altered a photo of a celebrity and your job is to guess who it is!
Here is the all important picture!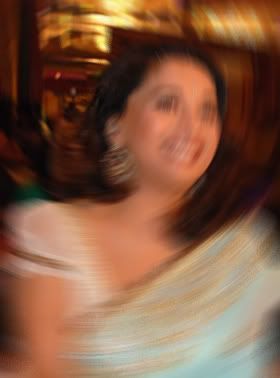 Please PM all entries to either: gk_09, .:Ashi:., bollycrazy
Last date for entries: 9th Nov
Only one entry per member will be accepted and the winner will be announced the in the next issue of the newsletter!
Also, don't forget that we have a banner contest running at the moment too!
That's all we have time for I'm afraid! Hope you enjoyed that!
Thank you to gurpz for the fantastic banners!
Please leave your comments and any suggestions!



Edited by bollycrazy - 04 November 2007 at 11:22am