Welcome Members
Rajeev Khandelwal

You gave us reason to smile

To just keep looking at u

And forget all aour worries for a while

Your eyes showed us the heights of hooded intensity

Your heart filled with nothing but sensitivity

The kid behind those mature looks

Your naughtiness wanting to emerge from every nook

Your tough decisions made us proud

Distinguishing you in the crowd

Your belief n your conviction

Got you through every situation

Your honesty stole our hearts away

Just hearing your name made our day

Seeing you brought twinkle in our eyes

Our mind going blank n being all smiles

The far away look that came on our face

Thinking n praying for your win in the race

The race of life,the race of love,

The race of fate and the race of luck

Just wanted to thank you

For all that you have bestowed on us

Love you!!!!
Rajeev Khandelwal........is a name which needs no introduction.....
he has the face tht makes zillions of girls go weak on their knees.............with his smile he won the hearts of millions...his intense looks r enough to kill..........girls go crazy wid just a mere glimpse of him......
Me Rajeev ki sweets si sis
welcome u all to his Raj Mahal

Know More About Rajeev
Rajeev was born on the 16th of Oct. 1975 in jaipur.He was brought up in an army background as his father was in the army. He did his B.Sc in chemistry before producing his own documentaries. He came to Mumbai with lods of dreams....n he worked very hard to make his dreams come true......

His Shows
Kya Hadsa Kya Haqeekat (Sony):
He made his debut with his show portraying a conspiring husband..who would go to any extent to lay his hands on his wife's property and was even ready to prove her mad...


Kahin To Hoga (Star plus):
It is probably this show which gave him the real recognition and acceptance into the telly world. He portrayed the character of Sujal Grewal which brought him enormous success. Like all other balaji shows..this show too revolved around 5 women..but Rajeev's aura was such that he dominated the show in spite of having multiple parallel leads.The arrogant and obsessed lover that he played made women of all ages go mad after him. Though the show was scheduled for 11 pm in the night, people of all age groups stayed up just for one glimpse of their heart-throb.The emotions which he portrayed through his eyes......remain evergreen and etched in the hearts of his fans even today .
Time Bomb (Zee)
When he thought that Sujal's character was not shaping up properly he opted out of Kahin To Hoga. Many of his fans wanted him to come back but he is not a kind of person who would just do the serial for the sake of money or popularity. Rajeev signed a new serial on ZEE T.V called Time Bomb . under ketan Meheta's direction. Time Bomb had also got other good actors like Kay Kay Menon and Akashdeep but the role of Varun Awasthi played by Rajeev was appreciated the most. The character of Varun was very different from Sujal of Kahin To Hoga. And though the show did not go too well with the audience.....it resurrected a dying channel and helped Rajeev prove his point: VERSITALITY.

Sun Le Na (Ary Digital..Pakistan):
After his successful pairing and superb chemistry with Aamna Shariff in KTH...reputed Pakistani director Humayun casted them together in another project called sun le na in Pakistan. Though the show was short.. it was very much enjoyed.
CID (Sony):
He played the role of ACP Prithviraj Chauhan. Though it was only a cameo, his efforts did not go unnoticed and he won high praises including an award for the cameo
Deal Ya No Deal (Sony):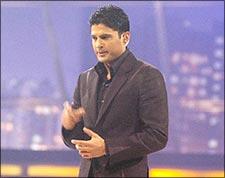 He continued his quest for versitality and emerged as the third host for the reality game show. The previous two hosts being Madhavan and Mandira....it was quite challenging for someone with no experience as a host to get into their shoes. But Rajeev took it in his stride. Initially he was subjected to criticism but finally he efforts did not go in vain and he got noticed. Offers for hosting kept pouring in after the show, only showing that somewhere he had left his mark.
Left Right Left (Sab):



After almost a year of quitting KTH..he returned to the world of daily shows but with a character very different from what he had played untill then . Capt. Rajveer Singh Shekawat became very popular among the audience in no time and was especially a phenominal success with the younger age groups which finally seemed to have got a show of their choice, something different from the saas bahu sagas. Though Sab was a very small channel the show did well and turned out to be the platform for' The Return of The King.'



Awards
Best actor - Golden awards 2007

Best television actor-Sansui 2007

MTV award for the most stylish host-2006

Best Cameo-Sony 2006

Best television personality-ITA 2005

Most stylish actor -MTV 2005

Best television personality-ITA 2004

Best Fresh Face -ITA 2004

Best Jodi - ITA 2004 (with Aamna)

Best jodi -Star Parivaar awards
List of Previous Fan Clubs
Kanak: http://www.india-forums.com/forum_posts.asp?TID=729731
Suri: http://www.india-forums.com/forum_posts.asp?TID=743718

Naz : http://www.india-forums.com/forum_posts.asp?TID=750205

Fan Club Members:
1- farislove (Zee)

2- nram
3- basanti_diya
4- cute_rabi
5- starbellz_21
6- ruksaar_khan
7- nailaqureshi
8- angelic eyes
9- angeliclooks_me
10- ANKESH --> (bravehearted)
11- cuttiepie_81
12- kiran_sherry
13- S a r a h
14- rajeevthegr88
15- lrl rocks
16- sanaa_firoz
17- shareen
18- mahek-e-gulab
19- neetaldesai
20- emms
21-birds
22- nyle
23- vivacious virgo
24- anum-mehrun
25- pinka_anshu
26- anitathebest
27- ambrinaltaf
28- sujalkideewani
29- nazrinkhan
30- togepe30 (Vandana)
31- maroon
32- janubaba253
33- ums5
34- *mansibhatia*
35- varallika
36- rajeev_crazy
37- minnee
38- Naina_lrl
39- yyyy
40- CINDRELLA(Preeti)
41- Paru_M
42- amail1601
43- a_b
44- riya_03
45- nidhi2013
46- Rajeev Aamna<33
47- surbhi 01
48- soniya_1010
49- 4ever urs
50- Ritika2025
51- sunaina02
52.divyalrl
53.riya_03
54.rajeev-bigfan
55.Binky
56.sriti
57.bhaktikaushal
58.**maham**
59.NaVy1985
60.ranjitha
61.violence_peace
62.Souma.N
63.sun_423
64.Asha_36
65.iqjaz
66.Uudee
67.dramaholic
68.rajeev_deewani
69.Barnali di
70.Trups di
71.me2kool
72.captain_ranveer
73.SAHELIGSWM
74.cool_subha2006
75.komalsirwani
76. salluranifan
77. violence_peace
78. Sweet_sujal
79. rakshi_sweety
80. cutykoo20
81.gktrina
82.Ritika
83. Kanak
84. *sowmya*
85.mz.jess
86. Voldemort (Ajay)
87.sweety_rajveer
88.Naina
89.Sarah khan
90.rajnaina
91.Nadia
Awards
Page 14 : previous FC http://india-forums.com/forum_posts.asp?TID=761049&TPN=1 4
-------By Ranju, Nidhi, Saheli, Kiran Dii & Preeti
Article
Page 2 : Daud Hi Daud(Sets of AAMIR)------By Zee
Page 92 : Rajeev re-acts --------- By Preeti
Page 102, 104 : Narrow Staircases, Shady Hotels and Lamb Chops @ 5.00am [set of Aamir] ----------By Preeti, Summi & Zee
Page 125 : Aamir - The Film ------- By Vandana

Pictures

Page 92 : Sets of Aamir -------By Zee
Page 104 : Narrow Staircases, Shady Hotels and Lamb Chops @ 5.00am [set of Aamir] --------By Ruksaar




Analysis
Page 5 : Time Hi Time------By Preeti
Page 93 : Rajeev re-acts ---------By Minnee
Page 94 : Rajeev re-acts -------By Preeti
Contest
Page 71 : Contest -------By Nidhi
Page 116 : Voting for the siggies ------By Nidhi
Game
Page 104 : Rajeevgiri ---------Mehrunisa Anam

Discussion
Page 96 - - - - - By Preeti

Page 138 -----By Ranjitha
FuN-O-zOnE
Page 115 : Meet Ammu -------By Seheli
Page 125 : Preeti ki Mehfil --------By Preeti
ROTW
Page 129 : Bhaskar Bro(Thakur Saab) ------By Nidhi
PLEASE FOLLOW THE FOLLOWING TO KEEP THE FC, NEAT AND TIDY:
1. Please avoid double or triple quoting say it like
@ Nram
@ nidhi
achcha bhidu log.....apun tumlogo se request karta hai...ki lamba quoting bole toh .......dusro ki baat par tippni nahii marneka......seedhe se naam se karneka
apun ko bada post dekhne ko achcha nahii lagta hai re
aur agar kissi ne aisa kiya toh apun ke munnabhai yah phir kissi bhi circuit ko bol dene ka
kya?????
2. Please only one person write the captions for any pic
photu mein comment koi bhi ekich member karega.....apun ko pata hai apun ka Raj bhai bahut hi khobsurat hai....par zyada log nahii karneka re...
3. Please avoid repetition of pics for Caption
apun ko baar baar bolneko ko achcha nahii lagta aur apun request nahii seedha order deta hai aur agar koi isse follow naa karein toh apun Raj ko uska bhai bana deta hai

4. Please avoid saying hello or welcome posts
aapas mein baat kam karneka ....iske liye khopche waali khidki bole toh PM karne ka
jo moffat ka hai...uska use karneka re

5. Please discuss Rajeev in every of ur replies
aur harr reply mein Rajeev ko mention karneka....aur agar nahii kiya toh apun phod dalega


6. IF someone posts pics for lrl episode use 'Thank you' button for that avoid quoting all the pics
aur agar koi photu achcha laga ho toh usse baar baar quote nahii karneka .....
isse page lamba hojayega naa re
aur phir tumich logon ko takleef hoyega

apun ko aur kuch nahii bolneka hai
abhi ke liye bass itna hi
Aknowledgements
Thanks People for waiting for me .....Tnaks for keeping patience
Love all the members of the FC for making the previous one Rocking
hope this one will too b as Good as that


Edited by CINDRELLA - 20 November 2007 at 10:11pm