THE GODFATHER
PART ONE
This is a saga of mystery, intrigue, crime, passion., romance, betrayal and redemption! The story moves through several locales…..Hongkong, Dubai, Delhi, Mumbai, Sydney……
Presenting the inimitable Mr. Bajaj (Ronit Roy) as The GODFATHER!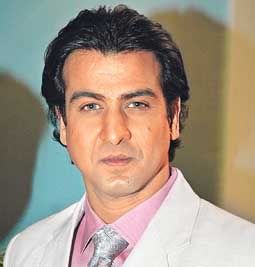 He is a man of mystery, enigmatic and powerful! Owner of a chain of hotels and casinos across the globe, he has his finger in several shady pies. Hes rumored to be involved in sports betting, horse-racing, car-racing and all kinds of gambling rackets. The Regency group of Hotels belongs to him. People talk about him in hushed tones, so powerful is his personality and reputation . Hes referred to as Mr. B or simply as THE GODFATHER!

Zaib: A talented singer, a man of silent action, hes Mr. B's protg and confidant. Zaib and Mr. B. share a deep rapport and unconditional loyalty. Zaib's silky, deep voice makes women swoon, his rugged looks add to the appeal. He sings at the hotels owned by Mr.B.
But his music hides a secret!
Shabbir : Mr. B's lawyer and most trusted lieutenant. He is a tall, thin man in his 30s, suave and sophisticated. He is slightly envious of Mr. B's complete faith in Zaib. But he shares an easy rapport with Zaib, which hides his resentment.
********************************************************
Scene 1:
A high-rise building in Singapore. On the 20th floor of Regency Hotel……the penthouse suite is reserved for the owner, whenever hes in town on business.
A tall, handsome man stands inside the penthouse, behind a large mahogany desk, looking out at the brilliant city lights through the scenic windows on one side, stretching from ceiling to floor. Hes wearing an expensive suit, dark and somber as his mood. He is pensive, lost in his thoughts, brows slightly furrowed in worry.
Theres a slight knock at the door. John, his personal valet, stuck his head in the door and announced: Sir, Mr. Zaib is here.
Let him in….Godfather commanded in his deep voice.
Zaib enters…..a tall, muscular young man in his late twenties. Hes wearing a leather jacket over a cream-colored T-shirt and jeans. His light brown eyes are usually hidden behind dark glasses, his tousled brown hair trapped in a hairband. A look that makes him even more popular with the ladies. His lips curved in a sardonic smile most of the time, as if hes enjoying a private joke all by himself.
Hello, Zaib! How was your performance tonight? Mr. B asked with a slight smile.
It was as expected….Zaib said nonchalantly.
Care for a drink? Mr. B moved to the bar in the corner.
No, Sir! I don't drink!
Oh yes! I forgot! Godfather smirked, slightly mocking…your tastes run the other way. More women than wine, right?
Zaib grinned: Sir, you know me better than anyone else.
Mr. B poured himself a shot of whisky and drank it in one gulp. Then he walked back to the desk, opened the drawer and took out the photograph. He tossed it on the desk.
Zaib picked up the photo….it was of a middle-aged man, slightly shady in appearance, with a shifty look in his eyes.
That is S******….Godfather pointed ….He is your next assignment. The job must be done within two days. Can I count on you?
Zaib looked him steadily in the eye: Have I ever failed you?
No, you havent! Mr. B nodded in approval. After the job, you are flying to Hongkong. Your ticket has been booked. ….he took out an envelope and handed it to Zaib. Make sure you leave no traces.
You know I don't make mistakes . Is that all?
Yes! You can go relax now….Mr. B smiled again. Good Night!
Good Night, Sir ! Zaib inclined his head a little and went out with the photo and envelope stuffed in his jacket pocket. He took the elevator down to his room on the 10th floor, where his latest conquest, Michelle, was waiting eagerly for him, to spend the night with him. He had a swagger in his walk as he went into his hotel room. Godfather's faith in him always added to his already burgeoning confidence. He was sure he would execute this assignment with the same finesse as before.
************************************************************ **
New Delhi ….Indira Gandhi International Airport
A Qantas airlines plane had landed on the ground. Amongst other Indian passengers, a very tall, rugged, bearded young man emerged from the airport and looked up into the scorching July sun of Delhi. He put on his sunglasses and grinned: It felt good to be home after 3 weeks. He was missing his pretty little wife and cute kid.
A limo driver came up to him: Kapoor Saab? Josh nodded: Haan!
Aapkey liye company ne limo bheja hai"
That's Good! Lets go then! Josh handed over his rolling bag and other luggage to the Limo driver and sat in the backseat with his laptop. He switched on the laptop and started working, e-mailing The Company about his latest trip and sending the requisite files and reports.
As they sped down the Highway towards Vasant Vihar, Josh relaxed and shut down his laptop, waiting to reach his abode.
The Limo reached the gates of a cute, pink bungalow-style house. On the front lawn was a statuary and colorful flower beds, almost wilting under the harsh sunlight. Josh frowned and made a mental note to rebuke the maali for neglecting his flower beds.
He stepped out of the Limo and asked the driver to carry his luggage. There was a spring in his step as he walked fast to the ornate, frosted glass door. He rang the door bell…..
The door opened….. standing there in the doorway was a beautiful young woman in her mid-twenties. Her long hair was open to her midriff, she was wearing a green chiffon sari, a light gold chain and small earrings.
She smiled widely in welcome : Aap aa gaye?
Josh stepped in, lifted the woman in his arms and swung her around. He kissed her loudly on her sweet lips and yelled: HAAN, MAIN AA GAYA….I missed you, KRIPA!
Kripa laughed: Chhodiye mujey….main gir jaaoongi"
He kissed her neck: Mainey aaj tak kabhie tumhey giraya hai kya?
PAPAAA….PAPAAAA…..two little feet came running into the Hallway. A cute, adorable boy of four stood there, looking slightly jealous, at the scene of Papa carrying Mama in his arms.
Josh put Kripa down at once, kneeled down and held out his arm for his little son: Sunny beta, Here, come to Papa.…
The little boy pouted angrily at him: Papa, aap itney din kyun nahin aaye?
Josh made a sorry face and held his ears: I am sorry, little guy! Wo kya hai na…Papa ka jo Boss hai, usney Papa ko aaney nahin diya…nahin toh main kab ka aa jaata….now come on, give Papa a hug….
Prateek/Sunny ran to his Papa and hugged him tightly, slightly tearful: Papa, I missed you! Phir kabhie mat jaana….
I wont….in fact next trip per tum aur Mama merey saath aa rahey ho….
SACH ? Prateek's face lighted up…..PROMISE?
Haan, Pakka promise! Now give me five" Josh did a High-five with a delighted Prateek.
Kripa, who was observing father-son interaction with a grin, looked surprised : Lekin Josh, hum kaisey chalengey? Prateek ka school….
Josh held up a hand authoritatively: Don't worry about school…abhi toh sirf pre-K mein hai…ek-do mahiney classes miss karega toh koi kayamat nahin aa jayegi…..next trip you two are coming with me, and that's final.
Kripa kept quiet…..she had learned to trust and depend on her husband implicitly. He would never take any wrong decisions for them ,she knew.
Josh opened the door, ordered the Limo driver to deposit his bags inside, signed in the company car log and let him go.
Papa, aap mere liye kaun se toys laye ho Australia se? Prateek asked eagerly looking at his luggage.
Josh laughed: Itney toys laya hoon ke mujey ek extra bag khareedna pada….Come on, andar chalo, ,main dikhata hoon.
He picked Prateek up in one arm, draped the other arm around his petite wife's shoulders and walked into the Family room.
------------------------------------------------------------ ---------------------------------

pallavi


Edited by pallavi25 - 07 January 2008 at 1:13am