Inspirations for movies come from the real life so they definitely are a mirror of the society. The reality of course is mixed with fantasy, which is the product of the creators' imagination.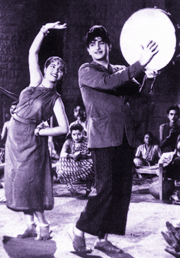 The 50's and 60's movies like Do Begha Zameen and Shri 420 captured the divide between the haves and have nots so beautifully.
The era of the angry young man, potrayed the rebellion of the youth against the system.

The light romantic movies of the 80's and 90's reflected the growing urbanism and consumerism.
Terrorism and the underworld have been captured nicely in movies like Satya, Dil Se, Maachis etc
Even the songs have been reflective of the music fads…Disco dancer in 80's and raag based songs in the older movies represented the musical tastes of the society..
The representation of humour has been a reflection of changing humour sensibilities…the Charlie Chaplain influence in Raj Kapoor movies
right to the relaitively crass but mass appeal humour of David Dhavan

RDB is the most recent example of a movie which represents the frustration in the young society wrt the political system( that's one thing which hasn't changed over the years)
Obsession with cricket has led to many a movie being made on the topic…
And last but not the least movies reflect the latest fashion and style in the society…the designers who design for fashion shows and ramp are also designing for movies these days…