Cramming- does it Work
Whoops! It's the night before the big exam, and you haven't done a lick of studying all semester. Looking back on it, you know that you should have been hitting the books all those nights you were watching t.v., but there's nothing you can do about it now....and you know --it's time to get cramming. !!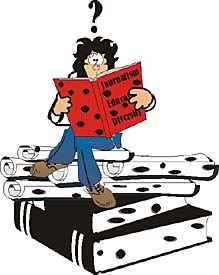 Well I know it is a bad habit and we are good kids...we in general don't cram

But I also know that sometimes necessary. Sometimes we are given too

little time to study too many chapters. Sometimes the teachers plan

exams one after another, sometimes multiple exams on the same

day....What to do then? ...Well....cram !!lol!!


I read and then write it over and over again. It really helps. Make

nonsense rhymes. Who cares if it doesn't make sense.


If you are studying literature remember the main characters....do they

resemble to anyone you know? Well, they might


For History: Try making up stories with historical characters, think about

movies or stories you have read on similar subject or setting. Ex: For

Moghul Empire trySah jahan-> Salim -> Akbar ->Humaun->

Babar.

Another of my techniques is creating mnemonics, . Those really help me remember. I also make a summary of my readings and read over them and try to memorize the key word
. I did that a lot for my history class and each word would help me remember the next concept and I just expounded on those to write a whole essay.
TIPS
If you're having trouble staying alert while you're cramming, and you have no time for sleep, drink some coffee. If you're tired right before your test, drink some more. Caffeine aids mental alertness.
You may find it easier to review with a study partner. You can quiz each other and answer each other's questions as you go along.
Eat nutritious food. It's harder to concentrate if you're loaded up on junk. Even though sugar is a fast source of energy, sugar lows happen shortly after the highs and they are hard to come off of.
Eliminate as many potential distractions as possible. If you can study without a computer, then make sure to work away from one. If your assignment is on the computer, disable the internet temporarily before you start. If you're working on the internet, (researching, etc.) then you need to exercise self-control.
Right before the test, try to get some exercise. Run up some stairs or do some jumping-jacks. Exercise gets blood flowing and relaxes you. It also increases your alertness. Take frequent, short breaks. Breaks help you stay alert, and they can also prevent burnout.
So, come on guys lets discuss our tried and tested ways in this thread