Today a Very Very Special Girl is Celebrating her Birthday...A girl Who is a fantastic Writer..A girl Who is A Friend for many..A girl Who is too mature for her age...A Girl who is always there for her Freinds..a girl who is LOVE GURU of the whole Mouni Roy/Kt Fan Club..A Girl who is...Our Life...A Girl Whom we Love Alot...Yes Yes Yes....Its None other than.. my Guide.. Our Guide..Our Very Own ...

.::Kittu::. aka ZINU
||*|| Here's a Birthday Song for you Darling ||*||
Happy Birthday to you!
Happy Birthday to you!
Happy Birthday dearest Zinu!
Happy Birthday to you!

God gave a gift to the world when you were born—
a person who loves, who cares,
who sees a person's need and fills it,
who encourages and lifts people up,
who spends energy on others
rather than herself,
someone who touches each life she enters,
and makes a difference in the world,
because ripples of kindness flow outward
as each person you have touched, touches others.
Your birthday deserves to be a national holiday,
because you are a special treasure
for all that you've done.
May the love you have shown to others
return to you, multiplied.
We wish you the happiest of birthdays,
and many, many more,
so that others have time to appreciate you
as much as we do.


On your birthday,
I hope that for every candle
on your cake
you get a wonderful surprise.
I wish for you that
whatever you want most in life,
it comes to you,
just the way you imagined it,
or better.

Lets start with a CAKE
||*|| Your Gifts.||*||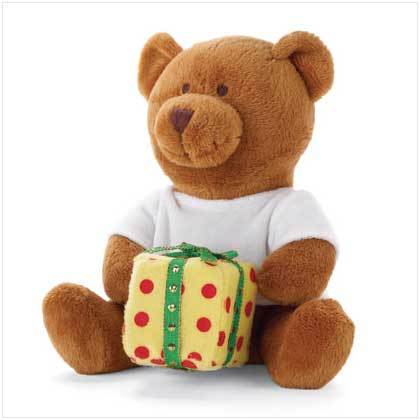 And..Loads of Pen for a Wonderful wonderful writer


Message from Sabrinaa xo
Well, i have soo much to say..But won't take much time!!
Kittu/Kit-Kat, we've known eachother for what..1 month??
Yea, that's not a long time, but our freindship grew stronger and faster than a rat being chased..really.
I mean, we just had 4 p-ms and after that we started talking as if we've known eachother for years!!
I still remember our hilarious conversations, along with your heart-warming hugsss!!
We have a very special freindship bond, and im pround as heck to say that..
You are one of the sweetest members i've ever known here on I-F
Andd, you have given me very sweet memories to have as a lifetime..
I am really glad to have met you..on I-F!!
You have become my part of my " top 5" freinds list here on I-F!
Now, with that said to my sweet jaanu, I'm Wishing you a very Happy Birthday.
You truely are a sunshine, and you rock!!
Hope you get all that your heart desires, and much much more!!
Wish you all the very best Zinu..
Love you,
Your Cici
Here's a sweet poem to you, zinuuu:::
I cannot build a mountain
Or catch a rainbow fair,
But let me be what I know best,
A friend who's always there.
Hopefully till we're olddies!! lol
Happy Birthday jaan!!!
ok,

Message from ~NiKkY~
Happy birthday Zinu / Kitu
Hope all ur wishes come true!
You're like the best ever!it's so nice talking to u
Cause ur so sweet and so i hope you enjoy ur birthday a bunch!
love,
Nikky!

Message From Mz.Jess
Happy Birthday Kittttttu! OMG! I've only known you for probaly 2 months but it seems like i've known you since forever. Your a great friend and always keep everyone in a great mood!
love yah! & Many Many Many Wishes On Your Special Day.
Jesssssi.

Message from RadhaKrishna123
Hey zinu you are a very nice friend who I had you are so great thanks so much for being my friend and helping me when I needed it!!
Many Many happy Returns of the day!!
May all your wishes comes true!!


here are the presents



Message from Sim_02
Hi Zinu Di!
Just Like To Wish You HAPPY BIRTHDAY!
And If U Don't Mind A Little Song For U!
Happy Birthday To You!
You Look Like A Monkey
And Smell Like One Too!
Love:Simran

P.S That's Just A Song That Is From My Favorite Movie So Don't Take It Personaly

Message From Saira_1
'zinu/kittu hope u hav a gr8 bday!May all your wishes come true on your special day'
A Present from Saira
here's kittu's gift:
hope she likes it

Message from prettyasjen
Hey here are the wishes n present:






You're a really sweet friend and I'm lucky to have one like you! May all your wishes and dreams come true...

Luv ya,
Jenni

p.s. Hope you like your present, I'm really not good at making siggies but I tried!
JENNY's GIFT IS PRIVATE , And will be PM'd to you by her!

Message From ktandlakshyalov
Ok!!zinu u know how special ur to me!!
ur my best online friend thanx to I-F!
and always had the wish to meet u!!!Hope this birthday!!brings lots of joy to u!!
.......n ur further special as ur B'day is just before mouni's so double credit!!
so.......................................................... ...........................
Happy birthday to u!!
happy birthday to u!!
happy birthday to dear zinu!!
happybirthday to u!!
may god bless u!
may god bless u!
may god bless dear zinu!!
happy bday to u!!
from
abhi!!

Message From tuba
hey zinu i wish you a very very happy birthday and hope that you get lots of presentrs. you have been a great friend and you are too lovely.
from ur buddy tuba

Message From *[email protected]@**

HAPPY B'daY Zinu!!!!!!!!!
u are the one wishing everyone first!! u are the one alwayz helping the first!!
HOPE u Enjoy ur new year!!
once again Happy birthday
from ur very own,aliya!

Message From Anu1993
Each year your birthday reminds me
That I really want to say
I'm very glad I know you;
On your birthday,
I wish for you the fulfillment
of all your fondest dreams.
I hope that for every candle
on your cake
you get a wonderful surprise.
I wish for you that
whatever you want most in life,
it comes to you,
just the way you imagined it,
or better.
I hope you get as much pleasure
from our friendship as I do.
I wish we were sisters,
so I could have known you
from the beginning.
I look forward to
enjoying our friendship
for many more of your birthdays.
I'm so glad you were born,
because you brighten my life
and fill it with joy.
I got it on this site because i am not good at making things like Zinu is she is a fab friend and i am so glad that i met her on if but i really wish to see her in real life and be best friends for ever
keep the message and i will send the siggy after ok
xxAnuxx

Message From desigrl05
-jhanvi

Message From Isha789
Dear Zinu,
A very happy Birthday kittu.. have a fantastic day and may all your dreams and wishes come true.
I love you my cutest friend.
Isha

Message From **maham**
dearest, sweetest, januest kitu
A very very very very very very very Happy Birthday to you!!!!! I hope your day today is just as sweet as you are!!!
I think I've known you for for around 3 months only, but even in such a short span of time, you're one of my closest friends, and the sweetest lil sis anyone can ever have! You rock girl, you're really the kit-kat of our fc and the forum, you give it all the sweetness!
Keep rocking, have the greatest and bestest day of your life, and the most fabulous year ahead!!!
Luv you loads!!
*hugzz*
Maham

Message From perfectpiscean
Zinu.......happy bday......hv a gr8 day.......n da day i meet pulkit im gonna get u an autograph and a pic......onli 4 u........ur l8 bday gift
.......neways hv a gr8 day..................its ur special day....njoi it 2 da fullest!!!!!!!!!!!
*MaRiShA dI*

Message From Uru_Hershey
You are soooo delicious... just like kitkat... no wonder your name is kittu di! We just met few months ago but you look so close to me. I just love you my delicious kuchi puchi kuchi kuchi kittu di!
Happy Birthday! Hope you have a blast!
Love,
Sweeto

Message from xoxNo0rxox
Dear Zinu,
You have filled my life with happiness, joy, and laughter!
You have made me a crazy fan of Pulkit just like you are.
But, to tell you one thing;
You are very precious, and i would never want to lose you!
Ever...
Enjoy your Birthday with loads of FUN, and Masti!!
Happy 1st Birthday on I-F
and 14th Birthday in real life!
May this be the most special moment of your life, hun!
We ALL LOVE You; Our Kit-Kat!


With Lots of Love,
Noor.

Some Other Presents made just for you, hun!
From Asha36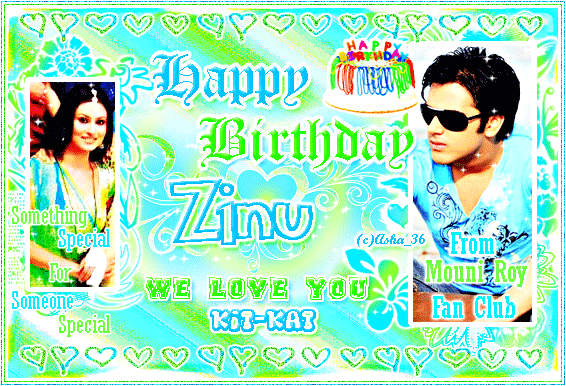 Message From .:::Shona:::.
Happy Birthday .::Kittu::.
Enjoy this special day!
Happy bday sweetie.....its a biggg dayy for u....the special day..u r one of the sweetesttt people i have met *hugs hugs*
u have always been such a wonderful friend...love u for everythng sweets....wish u all the best for life..may all ur wishes come true...wish u loads of smiles huggies wishes blessings love n everythng u wish for...wish u all the best for life 2day n forever
.....
I hope you have a excellent day with all of your gifts and a cake. Here's from me.....Happy Birthday Again....
Have a wonderful birthday!
Love you
Shona

dear meri jann zinu aka kittu aka kit-kat aka kitzz
finally its the special day for u and for all of us. and on this special day this massege I'm writting is also for someone realy realy reeeeaaaaaaaaallllllllllllllllllllllllyyyyyyyyyyyyyyyyy special
A special friend is someone who walks in when everyone else walks out
I always wished for a special friend........................and my wish came true when u met u in I-F.
and u were always there for me when I needed u
and u r the bestest and sweetest friend I have in I-F
I don't have words to explain my feelings right now...........................but all I wanna say is that many many many many many happy returns of the day............................HAPPY BIRTHDAY KITTU!!!!!!
u r one of the sparks of my life........................u r special...................u r the best.....................u rock and always keep rocking
so just enjoy your day.......................have a blast of fun......................party hard
...................and don't forget to share a peace of your cake with me
----and these r your gifts for your Bday----
never ever forget me
I lov u loads and tons
oishi

Have a FAB Birthday, Kitu!