Wasim: Twenty20 to kill ODIs
Shorter matches capture the public's imagination, says Pakistan star
Last updated: 21st September 2007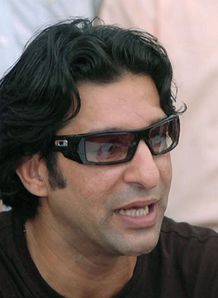 Wasim: Twenty20 is the future
Former Pakistan captain Wasim Akram says the success of the World Twenty20 could spell the end of one-day international cricket in its current format.
Wasim believes the 50-over game is in jeopardy as the public are more interested in the shorter, more explosive form of the game.
"Twenty20 cricket already has the potential to replace the ODIs as the most populist version of the sport," Wasim said.
"The Twenty20 World Cup has been a big success in terms of the interest it has evoked and people coming in to the grounds.
"You didn't get such big crowds and excitement even in the World Cup in West Indies."
Ideal
The left arm pace bowler said he enjoyed watching the Twenty20 matches.
"For a cricket lover it is the ideal format. The match finishes in around three and half hours and there is plenty of excitement and tension for the spectators and viewers," he said.
"To me one-dayers have tended to become boring and predictable.
"Test cricket will always remain the 'real cricket' for the players and purist fans around the globe. It can never be replaced. Even the advent of one-da internationals didn't affect its popularity and following."