Khairuuuu
wat is this?! u didnt ask me for my msg for our dearrr reema?
meaaanieee meaaaaanieee! lol but thats cool.. dont worry abt it..i mustve slipped off ur mind.. im guessing.. i hope..unless u have a better excuse
jus kidding
no worries... and GREAAAT post.. asolutely luvly.. especially loved ur gifts to her
they soooo suit her!
nicely done
Ok i already posted this in another bday post for u reemz.. since thats our home
but since this is the GA, i'll post it here again for u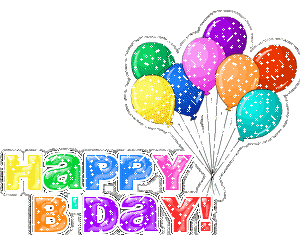 Reemaaaa!
Happppppy Birthdayyy! Hap hap happpyy birthday!
Aww wow 22 already..ur getting oldddd woman! not long before u turn 50!
hahaha jus kiddin
i tried to post this EXACTLY at 12am for u... so hopefully
it worked! i think it did
coz 3pm.. 12am.. hmm sounds right to me
Anyway Reemz..aww happy bday sweetie..honestly i'm so blessed to hav a friend like u!
I'm so glad i met u.. so glad we jus randomly started PMing each other..
they jus got longer and longer
and now they've jus stopped
well thats coz we dont need em no more, now that
we talk often enough
but sachi..ur suchhh a sweetheart
hehe and i cant
believe u think im adorable.. pfft puhlease!
but no one can deny, ur the
HOT n happening one between us all
i mean cmon with that hectic shoe
collection of urs
i admire u for those lil fancies of urs hehe its cute! i would
say its really 'funky' but then i dont want u taking the wrong meaning outta it
Alright so anyway, my point is, ur a gorrrgeous person, inside AND out! whether u
admit it or not, i truly believe ur gorgeous! and nothin u say can change that so shhh!
We've had many many great times and convos together
we talk about well, just about
anything! I feel real open with u, and feel i can tell u anything without hesitation.. and
i really appreciate that in u
Thanku for always being there..in good times and bad..
i hope we always remain as close as we are now.. and never ever lose touch.
Happppy Birthday once again Reemz
Have a wonderful day, save some cake for me.. and tell me allllll about it
when we next talk! I wanna hear everything
xoxoxo
~Luv, Luvneet~