CHAURAHEN
(crossroads of life)
-The main character's of this FF are, Lakshya & KT-
[Most of these character's are from the serial Kyunki Saas Bhi Kabhi Bahu Thi...; they have similarties to their on screen character's personality but a different storyline...]
INTRODUCTIONS:
Lakshya Virani:
21 years old and being the youngest in the family, Lakshya definetly holds the title of being a lady charmer and an ideal son. Lakshya is forever flirting with girls and has a way of being in every girl's heart (even the dadi's!!) with just a smile. Lakshya bows down to no one, except his Baa, she is one person whom he shares everything with. Born to a rich family, this blue eyed boy enjoys the pleasures of life, and with no hardships. Life comes easy to him, as he takes everything lightly. Now living in New York City, NY, Lakshya is living the American dream in a fast paced city with a fast paced lifestyle. He is enjoying his last year at NYU and will be soon graduating with his MBA degree.
KT (Krishna Tulsi) Verma:
At a young age of 18, KT has achieved lots in her life. Belonging to a middle class family settled in Mumbai, KT has always worked for what she's gotten. With a religious upbringing she is a devout believer of Radha-Krishnaji, and is always following the right path. Sometimes a little moody and a little stubborn, KT can be a handful to take care of. Her parents are worried about her leaving to USA to get her undergrad degree at NYU. As their only child, her father is a little protective at times, and thinks twice before granting her something. KT is very respectful of her parents and very loyal, she would never think to go against her father's wishes if he sternly refuses her something. Her patience is endless, if she wishes it, she won't openly fight for it, but fight for it through her patience.
Eklavya Sehgal:
22years old and only son, Eklavya already works for a high time paying company. Born to a middle class family, Eklavya worked his way up from living cheaply to living on grand scale. Eklavya has always been very shy and very hard working. His parents are very proud to have a son like him. His dream was always to meet the perfect woman, but so far he has been unsuccessful since his shyness holds him back. His interest remain in reading and spending time in the library. He is always on the outlook for true love. Living in NYC, Eku hates the city and wishes to settle down somewhere far away one day.
Baa:
Baa is Lakshya's dadi and also is the apple of Baa's eyes. Baa afectionately calls Lakshya, Kisna, as he was also born on Janmastmi. Lakshya is always there to serve her, and bow down to her wishes. Being the eldest in the family she is most respected and given thought to. She dreams of finding a Radha one day for her dotted grandson, Kisna.
Ganga & Sahil Virani:
Ganga is the jaan of the parivaar. She holds everyone together. A head strong modern day woman, nothing can stand in Ganga's way of what she wants. She is utmost respectful to her mother-in-law, Baa, and forever more loyal to her husband, Sahil.
Sahil, a huge business tycoon, owns many businesses in the NYC area, he has achieved alot in his life and wishes to retire on the day his youngest son, Lakshya gets married. Everyone follows his orders and also with a religious upbringing he forever encourages Kisna to pray who never seem interested in praying.
Nakul & Dhara Virani:
The eldest son of Ganga and Sahil, Nakul is obviously the more obediant one. He is married and has a child with his lovely wife, Dhara. Dhara is the ideal Bahu and very respectful to everyone and takes up all the household responsiblities upon herself.
Rahul Virani:
5year old Rahul is the mischevious one of the family, his admiration for his Chachaji(Lakshya) and his respect for his father gives him combination of a little mischief and hard worker. He considers his Chacha his guru, and for which him and Lakshya are basically good friends rather than Uncle and Nephew.
Prachi (Neetu) Kaur:
Prachi (nicknamed: Neetu) is KT's bestfriend, they are both coming in as international students at NYU. Neetu is a bubbly girl who is sometimes too emotionally charged, and more of thinker from the heart. She supports KT in everyway but thinks that KT needs to relax a bit and let love into her life. Neetu is eagerly waiting for the day she leaves India to America.
Neev Singh:
Neev is Lakshya's best friend. Full of life and ready to party down whenever and wherever, a true partier. Neev's life goals mainly consist of finsihing his MBA (his father's dream), and parting until he dies (his dream). He brings Lakshya good company, and is always there to help out anyone in need! He is the only son of a rich man, as his mother died off when he was very young. He has been through many hardships, as his father isn't really close to him. He always manages to look on the more positive side and go through life. His motto: Live in the moment!
Tulsi & Mihir: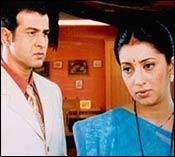 Tulsi & Mihir are KT's parents. Tulsi has brought up KT to live life on her terms but yet on the right path. Having KT as an only child, Mihir is a little strict with her.
SYNOPSIS:
Life is complicated, and the more we try to understand it the more we'll get caught in the daily tangles.
Lakshya always believed that he could create his own destiny and there was nothing stopping him in the way for what he wanted. KT always believed and put her full trust in God, if it was meant it be it will take place. Her patience sometimes gets her into trouble and sometimes brings the fruit of her wait. A clash is going to happen that wasn't meant to be, but yet so perfectly placed like it was a cause of destiny.
Neev never planned anything until a moment before it happens, he lives to the extreme and has no regrets. A true fighter at heart but very soft from the inside. Neetu sees everything in a brighter light, even through her failures she'll see a success. Her never ending thoughts of her prince charming causes her heart to break many times but yet she still has hope for a prince to knock on her doorstep one day.
Sahil and Ganga have been a forefront and strong balance for each other ever since they met. Theirs was the first love marriage in the entire parivaar to which many looked down upon but Baa supported.
Baa is proud of her entire family and now wants to put the pieces together before she goes to thakurji's ghar. She wants to see Lakshya's wife.
*This is my first FF, so hopefully I'll improve with each post
*
*JHANVI*


Edited by desigrl05 - 30 May 2009 at 4:50pm