Welcome Friends!
I'm here to announce who are next lucky MOTW is...
But before I do that... let me introduce to you all a NEW competition!!!
For every MOTW that we have in a month, the member who grills them the most, ie with the most questions, will win the title of College and Uni's CHIEF GRILLER for the month!!! Alongwith a beautiful siggy only for them!
Sound good?
So, get your questions ready for...
*
**
***
****
*****
CONGRATS!!!
Hope you have a great time on the hotseat!
Here's your siggy!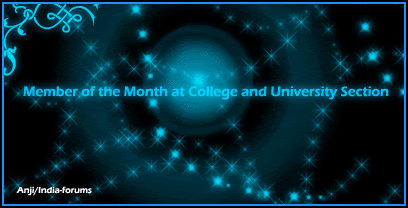 Here are some questions to start you off!
1 - Name
2 - Age
3 - Fav Subject at School
4 - Ambition
5 - Messages to IF friends
6 - Any comments/suggestions about the section?
College and Uni Dev Team


Edited by bollycrazy - 18 September 2007 at 2:00pm