honey irani (first wife/ mother of farhan and zoya akhtar)
daisy irani (honey iranis sister)
Daisy Irani in Adhi Roti'
farhan akhtar
farhan akhtar with wife adhuna on the sets of Don
"The hills are alive with the sound of Yeh Mere Dil" - lyricist for Don, Mr Javed Akhtar
adhuna akhtar
adhuna akhtar with brother
zoya akhtar (farhans sis)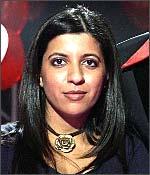 farhan with his family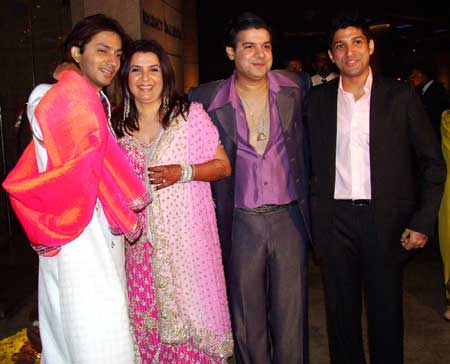 Shirish, Farah, Sajid and Farhan
Farah Khans mother Menaka is the sister to Honey and Daisy Irani and her father was Kamran Khan (producer).Her brother is Sajid Khan. ( islie wo cousins hain)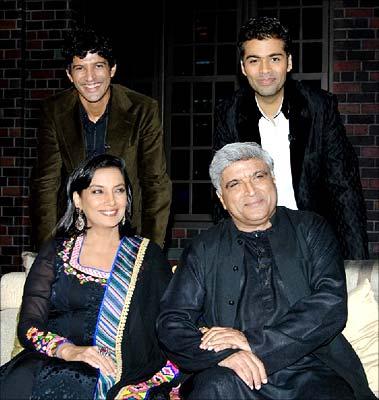 Javed Akhtar
Personal life
His father Jan Nisar Akhtar was also a famous Urdu poet. Javed's original name was Jadoo, taken from a line in a poem written by his father - "Lamba, lamba kisi jadoo ka fasana hoga". He was given an official name of Javed since it was the closest to the word jadoo.
Javed Akhtar was married to Honey Irani, a script-writer for Hindi films, with whom he had two children Farhan Akhtar, a film director, and Zoya Akhtar. He is also the uncle of director Kabir Akhtar. His marriage proposal to Honey Irani was made on his behalf by Salim to her mother Perin Irani. Salim gave an unflattering description of Javed to her and portrayed him as a drunkard who visited prostitutes. This incident was later parodied in one of Salim-Javed's most famous films Sholay, with the character of Jai proposing to Basanti's mother on behalf of his friend Veeru (played by Amitabh Bachchan, Hema Malini and Dharmendra respectively).
After Javed's divorce with Irani, he married actress Shabana Azmi, the daughter of another famous Urdu poet, Kaifi Azmi.
---------------------------------------------------------
some things about farhan akhtar
Always referred to as a metrosexual guy. Farhan Akhtar said that when he left college, he spent about two years at home and did nothing productive. During those two years, he watched about two films daily. Akhtar said that it was this period of his life which allowed him to connect with the character of Karan Shergill, the protagonist of Lakshya which film Akhtar directed, begins with Karan as a young, unemployed slacker who stays at home, sleeps late, and has no ambition or aim in life. Best friends with Uday Chopra and Hrithik Roshan.
Is one day older than Hrithik Roshan.
Wanted bollywood superstar Salman Khan to star in his 2001 blockbuster Dil Chahta Hai. Salman Khan, although not able to do the film, roped in Aamir Khan and Saif Ali Khan for the film instead. ( salman didnt want to work with the akhtar family because he thinks that they have betrayed his dad and his family )


Edited by dures - 13 August 2007 at 7:52am