ammu episode ka description second pag par hain..baad mein pura likhunga...
Cats on the prowl
For an Indian serial this surely is high quality and high action. C.A.T.S. on Sony Entertainment Television, Fridays, 8 p.m. is almost as slick as its American counterpart Charlie's Angels.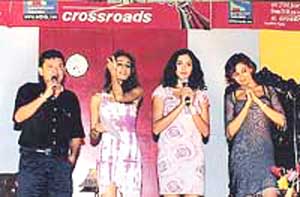 Starring Malini Sharma, Kuljeet Randhawa and former Miss India Nafisa Joseph, C.A.T.S. is a taut series of action, mystery and suspense. The three beautiful detectives work for agent "Charlie" and strive hard to overcome the evils that dog the city.
To boost its popularity further, the producers recently introduced an innovative contest where viewers were asked write a slogan and answer three questions.
Two lucky winners each from five major cities have now got a chance to star in one episode of the serial! The auditions were conducted in a reel life C.A.T.S. backdrop — complete with a dead body and the three detectives.
Missed the action? No problems. The contest is likely to go on air again. And that could be your chance of working with the three glamour girls for whom crime — fighting is not just a career but a mission that often puts their lives on the line.