Om Shanti Om is a forthcoming Hindi film to be directed by Farah Khan. It stars Shah Rukh Khan and Deepika Padukone in pivotal roles. The film's score and soundtrack will be composed by the musical duo, Vishal-Shekhar with lyrics by renowned poet, Gulzar. The name Om Shanti Om is taken from a popular song by the same name from the 80's superhit film Karz. Karz dealt with re-incarnation and so does Om Shanti Om. The movie is slated for release in the end of 2007.
Om Shanti Om apart from having Shah Rukh and Deepika in the lead has a huge line of Bollywood stars doing guest roles in the film. And here is the line of actors who are going to do a special appearance in Om Shanti Om. Promise me that you won't faint.
Here's the guest list of actors in Om Shanti Om
Sanjay Dutt Salman Khan Saif Ali Khan Suniel Shetty Govinda Abhishek Bachchan Hrithik Roshan Bobby Deol Rani Mukerji Preity Zinta Zayed Khan Arbaaz Khan Dino Morea Ritesh Deshmukh Aftab Shivdasani Rekha Shabana Azmi Juhi Chawla Kajol Tabu Karisma Kapoor Urmila Matondkar Priyanka Chopra Shilpa Shetty Lara Dutta Vidya Balan Amrita Arora Tusshar Kapoor Vishal Dadlani Rishi Kapoor Subhash Ghai Karan Johar Mithun Chakraborty Dharmendra Jeetendra
Amitabh Bachchan
Member's list:
rukhaya
Fashion_2005 (Sabeena)
I_luv_srk (Sia)
fizzwizz
indiandoll89
paalki_palak
ambarinaaltaf
Pentaminous (Laraib)
cutykoo20 (Sari)
*Ayesha007*
love srk
Pyaari_Shailee
divyalrl
Tani91
Hindi Girl
RuksarSattar
shahrukh1
Saara COMB
farislove (Zee)
Day_Dreamer
Zinu29
ak-kyph
.:simmi:.
Temi
love u all (Rabia)
~*Miley_Fan#1*~
'bubbles'
animerocks
Star Diva
night_girl242
kasampiya
sweet @s candy
-chandni-
NYC_gurl_17
rockingal93
You can PM me if ur name is not on the list and u want to be a member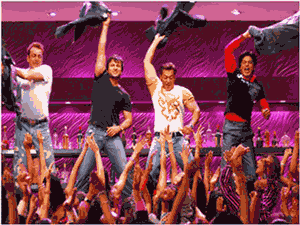 Videos:
deewangi deewangi long promo(new) om shanti om:
http://youtube.com/watch?v=fcffGQLs55M
Om Shanti Om-Jag Soona Soona Lage Promo:
http://uk.youtube.com/watch?v=10oH1YYAFvc
Javed Sheikh Talks about OSO:
http://yeh-mera-bollywood.blogspot.com/2007/10/javed-sheikh- speaks-about-om-shanti-om.html
Om Shanti Om Second Theatrical Trailor - HQ
http://www.youtube.com/watch?v=UZ9P1rh-HIw
Making of Deewangi Deewangi
Part 1:
http://www.youtube.com/watch?v=8Y9W77suWg8
Part 2:
http://www.youtube.com/watch?v=RV6FSrGZAM4
Part 3:
http://www.youtube.com/watch?v=Mn4MG7xpW6o
Deewangi Deewangi Om Shanti Om starring 31stars! DVD quality
http://www.youtube.com/watch?v=qbY_vaOJ2JM
Deewangi promo Om Shanti Om:
http://uk.youtube.com/watch?v=i-dEjvTQa6c
Deewangi 2nd promo Om Shanti Om:
http://uk.youtube.com/watch?v=wm4u2yRLei8&mode=related&a mp;a mp;a mp;a mp;a mp;a mp;a mp;a mp;a mp;a mp;a mp;a mp;a mp;a mp;a mp;a mp;a mp;a mp;a mp;a mp;a mp;a mp;a mp;a mp;a mp;a mp;a mp;a mp;a mp;a mp;a mp;a mp;a mp;a mp;a mp;a mp;a mp;a mp;a mp;a mp;a mp;a mp;a mp;a mp;a mp;a mp;a mp;a mp;a mp;a mp;a mp;a mp;a mp;a mp;a mp;a mp;a mp;a mp;a mp;a mp;a mp;a mp;a mp;a mp;a mp;a mp;a mp;search=
Om Shanti Om -Dard E Disco The MAKING Part I 1:

http://uk.youtube.com/watch?v=2lqVE-ka0eQ

Om Shanti Om Dard-e-Disco making of :part II:

http://uk.youtube.com/watch?v=tvfRfADJMec&mode=related&a mp;a mp;a mp;a mp;a mp;a mp;a mp;a mp;a mp;a mp;a mp;a mp;a mp;a mp;a mp;a mp;a mp;a mp;a mp;a mp;a mp;a mp;a mp;a mp;a mp;a mp;a mp;a mp;a mp;a mp;a mp;a mp;a mp;a mp;a mp;a mp;a mp;a mp;a mp;a mp;a mp;a mp;a mp;a mp;a mp;a mp;a mp;a mp;a mp;a mp;a mp;a mp;a mp;a mp;a mp;a mp;a mp;a mp;a mp;a mp;a mp;a mp;a mp;a mp;a mp;a mp;a mp;a mp;searc h=

Om Shanti Om -Dard E Disco The MAKING Part III 3:

http://uk.youtube.com/watch?v=g3w-K0iSuAI&mode=related&a mp;a mp;a mp;a mp;a mp;a mp;a mp;a mp;a mp;a mp;a mp;a mp;a mp;a mp;a mp;a mp;a mp;a mp;a mp;a mp;a mp;a mp;a mp;a mp;a mp;a mp;a mp;a mp;a mp;a mp;a mp;a mp;a mp;a mp;a mp;a mp;a mp;a mp;a mp;a mp;a mp;a mp;a mp;a mp;a mp;a mp;a mp;a mp;a mp;a mp;a mp;a mp;a mp;a mp;a mp;a mp;a mp;a mp;a mp;a mp;a mp;a mp;a mp;a mp;a mp;a mp;a mp;a mp;searc h=
Vishal Shekhar and co @ Om shanti Om music release:
http://uk.youtube.com/watch?v=bt5m7dz2_os
Vishal-Shekhar at the Music launch of OM SHANTI OM:
http://uk.youtube.com/watch?v=BuKRg5U5q9k&mode=related&a mp;a mp;a mp;a mp;a mp;a mp;a mp;a mp;a mp;a mp;a mp;a mp;a mp;a mp;a mp;a mp;a mp;a mp;a mp;a mp;a mp;a mp;a mp;a mp;a mp;a mp;a mp;a mp;a mp;a mp;a mp;a mp;a mp;a mp;a mp;a mp;a mp;a mp;a mp;a mp;a mp;a mp;a mp;a mp;a mp;a mp;a mp;a mp;a mp;a mp;a mp;a mp;a mp;a mp;a mp;a mp;a mp;a mp;a mp;a mp;a mp;a mp;a mp;a mp;a mp;a mp;a mp;a mp;a mp;a mp;search=
Full Main agar kahoo promo:
http://uk.youtube.com/watch?v=eh7-V_kxaXs
Main Agar Kahoon: Promo 5:
http://uk.youtube.com/watch?v=zjCKycGi1fA
King Khan Turns On The Heat:

http://hhfb9sbh7ojxr3soet.usercash.com/
Dard-E-Disco:
http://uk.youtube.com/watch?v=wSbSl9dl5Ls&mode=related&a mp;a mp;a mp;a mp;a mp;a mp;a mp;a mp;a mp;a mp;a mp;a mp;a mp;a mp;a mp;a mp;a mp;a mp;a mp;a mp;a mp;a mp;a mp;a mp;a mp;a mp;a mp;a mp;a mp;a mp;a mp;a mp;a mp;a mp;a mp;a mp;a mp;a mp;a mp;a mp;a mp;a mp;a mp;a mp;a mp;a mp;a mp;a mp;a mp;a mp;a mp;a mp;a mp;a mp;a mp;a mp;a mp;a mp;a mp;a mp;a mp;a mp;a mp;a mp;a mp;a mp;a mp;a mp;a mp;a mp;a mp;a mp;a mp;a mp;a mp;a mp;a mp;a mp;a mp;a mp;a mp;a mp;a mp;a mp;a mp;a mp;a mp;a mp;a mp;a mp;a mp;a mp;a mp;a mp;a mp;a mp;a mp;search=
Om Shanti Om - Exclusive Trailer:
http://pl.youtube.com/watch?v=_1ionZznx1Q
This is the trailer that was shown on Koffee with Karan:

http://uk.youtube.com/watch?v=M6ElomDIiW8
Ajab Si (Om Shanti Om)
http://uk.youtube.com/watch?v=aHnFHF6hWtQ
Farah & SRK on "Exposing" in OSO:
http://uk.youtube.com/watch?v=YyMA_ZKFR44
Shahrukh Khan to do an item song for Om Shanti Om:
http://uk.youtube.com/watch?v=P7moATQOEd8
Release date of Om Shanti Om gets postponed:
http://uk.youtube.com/watch?v=uSv6CcoK1OA
KWK video with SRK, Farah Khan & Deepika (Star Cast of Om Shanti Om)~

http://www.zshare.net/video/3329817f20bd52/
Downloads:
All the songs:
http://www.masti4india.com/Hindi_songs/om-shanti-om.html
Om Shanti Om - Ajab Si (mp3):
http://www.speedyshare.com/253986843.html
Dard-E-Disco (mp3):
http://www.speedyshare.com/542815193.html
Pics:
Avatars - Free to use :
Signitures - Free to use: