Welcome Friends!
It's time to announce the winner of our first contest...
This time, we at FnB, decided to pick the winner slightly differently and to save time
... we have our own panel of judges!
So, let me introduce you all to our wonderful panel of judges...
Our first judge is... our sweet CM, Tumhari_Khushi!
Our second judge is... our pyari Mod, gk_09!
And our last, but certainly not least, judge... our cute Viewbie *dels*!
***
We had several fantastic entries, which was great! And it also made deciding on a winner very difficult for our judges!
But we do have a winner!
***
**
*
**
***
And our winner is...
Jersey_Chickxox
Congrats!
Here's the winning entry!
Here's your siggy, made by gk_09!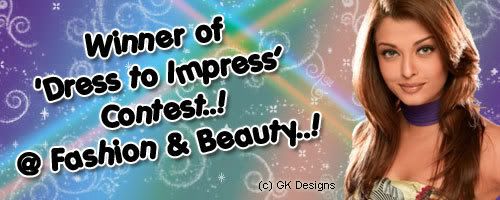 Thanks to everyone who entered! Please do participate in the upcoming contests at FnB!
Love,
Fashion and Beauty Dev Team


Edited by bollycrazy - 19 June 2007 at 1:47pm