recent award show that happened in Korea..thought i would post the results and some pics (below is some info on whut the Daejong awards are about)


The Daejong Film Festival, it's 43rd this year, is the oldest film festival in Korea which presents awards to the best film artists to promote the improvement in the quality of Korean films. The Daejong Award Ceremony, having high acclaim is the only awards ceremony held by the government in the film industry. Films recently made within one year are eligible to be awarded.

A week before the Daejong Award Ceremony, there is an opportunity for the general public to see the nominated films for free. Not only the opinions of the judges but also the opinions of the general public are reflected in choosing the award winners. Because of the Daejong Film Festival, film stars and film lovers all over Korea come together.
The Best Project: Family Ties
The Best Director: Bong Joon Ho ('The Host')
The Best Actor : Ahn Sung Gi ('Radio Star')
The Best Actress: Kim Ah Joong ('S Line')
The Best Supporting Actor: Kim Yoon Suk ( 'Tazza')
The Best Supporting actress: Shim Hye Jin ('South of the Border')
The Best New Director: Kwon Hyung Jin ('For Horowitz')
The Best New Actor : Ryu Duk Hwan ( 'Like a Virgin')
The Best New Actress: Jo Yi Jin ('South of the Border')
The Best Planning: Lee Jung Hak ('Lump Sugar')
The Best Scenario: Sung Gi Young, Kim Tae Yong ('Family Ties')
The Best Cinematography: Park Hyun Chul ('S Line')
The Best Lighting: Lee Joo Saeng ('Paradise')
The Best Editing: Kim Sun Min ('The Host')
The Best Mixed Media Technique: Shin Jae Ho, Jung Do Ahn (DTI, ETRI, 'Midair')
The Best Sound Effect: Jung Gwang Ho, Choi Tae Young ('Lump Sugar')
The Best Music Score: Lee Jae Hak ('S Line')
The Best Art Design: Kim Gi Chul ('Midair')
The Best Costumes: Jo Sang Kyung ('Tazza')
Special Award: Jun Do Yun
Merit Award: Shin Young Gyoon
The Most Popular Actor : Lee Bum Soo
The Most Popular Actress: Kim Ah Joong
The Most Popular Actor: Jung Ji Hoon/Bi
The Most Popular Actress: Kim Tae Hee

Photos:

Kim Tae Hee and Sul Kyung Goo



Rain and Moon Geun Young



Bi accepting his award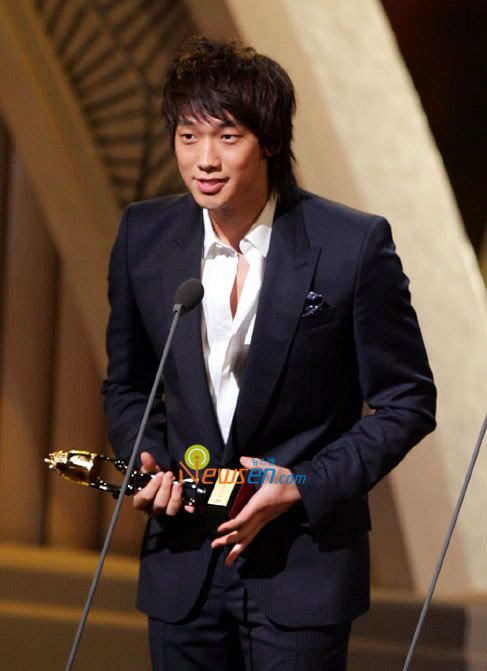 Chae Min Suh, Lee Tae Ran, Wang Bit Na



Tae and Ivy Singing duet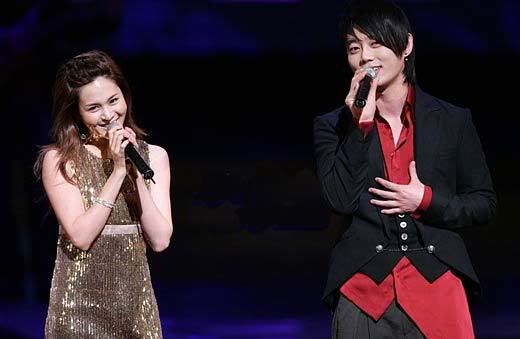 Ivy singing 'Maria' from "200 Pounds of Beauty"
my current obessession song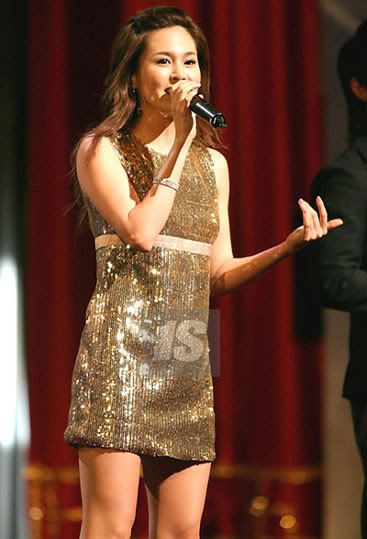 Kim Ah Joong (lead actress from "200 Pounds of Beauty")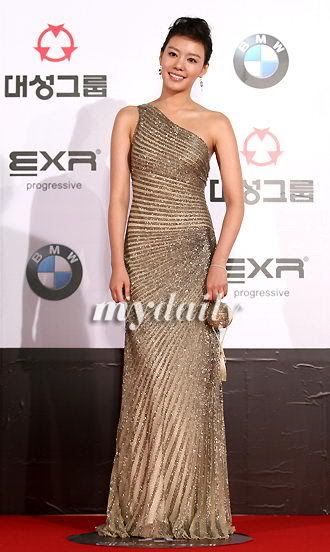 Moon Geun Young (from "My Little Bride" and "Innocent Steps")



I will try and get the links to the actual show if anyone wants to watch it