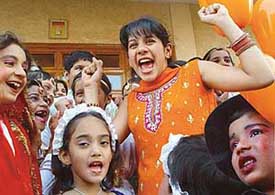 At 12 'Frootie' is a seasoned actress
Ruchika M. Khanna
Tanvi's favourite list
* My favourite serial — Son Pari.
* My favourite actor — Salman Khan
* My favourite actress — Of course, me.
* I unwind — During vacation time, by going off to relatives in Goa, or on a vacation with family.
* My friends — Prajakta, Neha and my cousin Vidula, because they accept me the way I am.
* My hobbies — Playing football and reading Enid Blyton books
* My ambition — Is not to be an actress, but a camera woman or a director. Acting is a passion, but only for the time being.
A 12-year-old, Tanvi Hegde, famous as Frootie, the character she plays in popular children's serial "Son Pari", is a seasoned actress, adept at handling all the adulation and her celebrity status.
In Panchkula as the chief guest for the annual day function of The Gurukul, Sector 20, Tanvi was at her cherubic best. She waved at children, shook hands with her toddler fans, and smiled as she posed with them for photographs. Dressed in bright orange salwar kameez, Tanvi made it a point not to disappoint any of her fans, even if it meant waving at children standing outside the window, while she deftly handled the questions asked to her by the journos.
Being a celebrity comes naturally to the young actor — after all she has been facing the arc lights since the time she was three-year-old. "Being an actor was a matter of chance. My father's friend, famous photographer, Harish Daftari, had come home and after having one look at me insisted on a photo shoot. After taking my photographs, he himself sent my pictures to various advertisement agencies and television production houses. The first advertisement that I shot for was for a leading national daily and since then there has been no looking back," she says.
Tanvi, has featured in more than 150 advertisements, besides acting in television serials like "Captain House", and "Yeh Hain Mere Apne". She has the rare distinction of having featured in advertisements for three rival tooth paste companies — Promise, Colgate and Pepsodent. She has acted in films like "Champion", "Rahul", "Pita" and "Gaja Gamini", and is now all set to act with Amitabh Bachchan in a "Viruddh", and star with Shahid Kapoor in another film, "Life Ho To Aisi".
But how does she handle her celebrity status, we ask. "I love the admiration and the attention that I get. Though I had featured in several ads and done serials, but the success of "Son Pari" has earned me fans all over the country. Its a great feeling when children walk up to me and talk to me as Frootie."
Though Tanvi is busy shooting for 10 to 12 days a month, she is doing well academically. She was recently awarded Maharshtra's Best Student Award by the Kanak Pratishtha for her all-round achievements in school. A student of Class VIII in King George School, Dadar, Mumbai, Tanvi says that her friends and teachers help her catch up with lessons while she is away from school. Does that mean she gets a preferential treatment in school? "Not at all. Like other children, I have to give application in school explaining the reason for absence. I am also pulled up by my teachers for any laxity in work."
Her mother, Ms. Shobhana Hegde, who is also a teacher in King George School, says that at home they ensure that she remains disciplined.