Cho Chang likes Harry Potter!
Harry Potter may suffer pangs of unrequited love in his latest movie, Harry Potter And The Goblet Of Fire.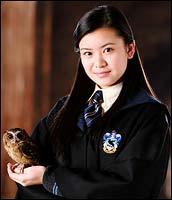 But, off-screen, actress Katie Leung, who plays his love interest Cho Chang in the film, shares a great rapport with actor Daniel Radcliffe.
In the film, Cho Chang turns down Harry when he asks her to the Yule Ball, choosing to go with school heart-throb Cedric Diggory instead.
But, in real life, the two get on quite well.
'When we weren't filming, we usually had to study. But when we did have time, we definitely hung out together. We would try to hang out on weekends,' Katie told The Mirror.
'Daniel's so well-mannered, and he really cares about you. He's always asking, 'Are you all right? Can I get you some water?' ' she added.
rediff.com