Introduction
The Khannas
Angad
Hi, I am Angad. Angad Khanna. I'm 26 years of age and I live in Canada with my 2 brothers in a huge mansion. I am hot, sexy and what not. Girls drool over me and all the girls in my university wanna date me atleast once. Who wouldn't? Anyways I love 3 things in my life: Money, Music,and Girls. Without Money, everything is impossible, you can never be successful. Without music, life is just plain old boring and without girls you will be bored to death, they are the best thing to timepass with. My ambition is to be a singer, actually I am already a singer but I wish to be better and the best.
Robbie
Hi, I am Robbie Khanna, I am younger than Angad by 2 years. Angad and I have lots of things in common. Like Angad, girls drool over me and wanna date me atleast once. I love three things as well: Money,Music,Girls- the reasons are the same as Angad's. Like Angad, I am hot, sexy and cute- well I don't think Angad is cute. I'm a singer but I have 3 more years to go in university. Gosh, only I know how much I hate studies, and university. It's torture. But you know parents. They want you to study as much as possible.
Prem
Hi. I'm Prem Khanna. Angad and Robbie's younger brother. I am 22 years old and I have 5 years to go in university. I am a lot similar to my brothers. I also love Money and girls and the reasons are the same as Angad's and Robbie's. And I love my self. I think I am hotter, sexier, and cuter than both Angad and Robbie. I hate it when they sing. In my opinion they have horrible singing skills. I get annoyed of them very often. They usually woo my girlfriends
. That drives me nuts. One time Angad, Robbie and I wanted to take the same girl out for prom night. She had a sexy figure and a very hot body. We fought a lot over her, I remember I almost broke Angad's nose, and in return Angad almost knocked my front tooth out. Angad and I were so busy fighting that Robbie easily ended up with her for night. This time I decided to woo his girl and I was successful. Robbie was furious, he was burning with anger and in return he put my four fingers in a rat trapper while I was sleeping and if you think that doesn't hurt then you're crazy.
I don't think my brothers mentioned abt Mom and Dad. My Dad's a business man and his name is Rishab Bajaj Khanna, and my mom's a businesswoman. her name is Prerna Bajaj. I adress them as Daddycool and Mother India. My mother is a real MotherIndia, and I mean it. She can do anything.
Mr and Mrs Rishab(played by Ronit Roy) and Prerna Bajaj(played by Shweta Tiwari

Angad Played By Iqbal Khan

Robbie played by Karan Patel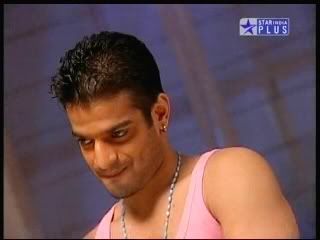 Prem Played By Manoj Bohra

Hi Guyz, This is Momo, I wanted to write a new fanfic and there was the Intro of the Khannas. You guys have probably figured out, this ff is gonna be abt AK(Angad-Kripa), RK(Robbie-Kasturi), and PM(Prem-Mukti). Please do tell me if you liked the intro and if you would like me to continue, Please Leave Comments.


Edited by anu-pre4eva - 15 February 2008 at 8:20pm