Hello all Junaid'ians and welcome :
The place to express your love, support for Junaid sheikh!
All fans are welcome!
Profile:
Name: Junaid sheikh
Age: 24
Home town: Karachi
Hobbies: Singing, composing new melodies, working out and playing the guitar.
Favorite Actor: Salman Khan,Amitabh Bachchan & Ajay Devgan
TO JOIN: Simply introduce yourself !
MEMBERS LIST:
Angad
desichicka35
Xmuqix
Jersey_Chickxox
sportyshi07
tazlima
anji
~haBiBi2hot~
Kalli
siddh_v
SmarterDesiKid
tangina r
miss.babli
MrsPulkitSamrat
Funk'n Desi
buttercup
Adorable_Ankita
Prenz~13
cwazypakichick
Urooj
xoSpicexo
luvthegrl786
sweet_m
live_life
Noor_64
Sahera
ghetto_princess
amna_20
SonPan
amrit_rus
Buxi
shrutibali
Siggies
AvAtArS
VOTE 4 JUNAID
Picture: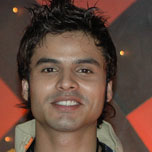 Edited by Angadz - 18 July 2007 at 2:06am