Hello Dear IF-ians,
Sorry for the delay but I am here to annouce the winner of our very own Mother's Day Signature Contest..!
Thanks to all who voted and Thanks to our jugdes as well who took their time out to vote.
*~*~*~*~*~*~*~*~*~*
*drum roll*
*~*~*~*~*~*~*~*~*~*
and the winner is...
a-k-fan17
*~*~*~*~*~*~*~*~*~*
Winning Signature:
A wonderful signature
*~*~*~*~*~*~*~*~*~*
Here is your prize made by our very own Tumhari_Khushi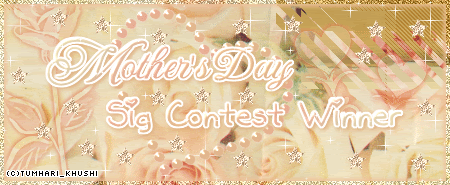 *~*~*~*~*~*~*~*~*~*
Hello,
I'm back to announce the winner of the Spring Card Contest. But before I announce the winner, wouldn't you want to see the winning card?
Then here it is:
And the member who made such a beautiful card is:
adorablegrul
Here is your prize, a wonderful signature by Tumhari_Khushi
Congratulations!!!


Edited by gk_09 - 23 May 2007 at 2:53pm