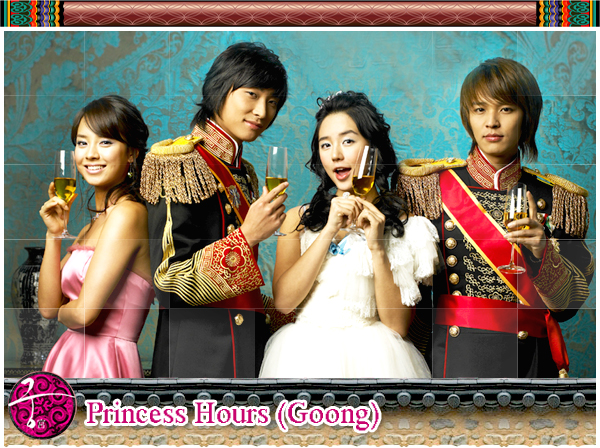 Princess hours or goong is a engrossing romantic tale of a prince and a commoner who ends up in an undesired marital relationship owing to a promise of deceased king. The charming yet cold prince and lively but innocent princess have nothing in common . they are even pursued by different parties. prince is smitten by a ballerina and princess is pursued by another royal prince yul. Trouble starts years ago...when the crown prince(yul's father) dies and shin's father become next king. yul and his mother are driven off the palace(since law states only one prince can live in palace at a time) to england. Yul's ambitious mother resolves to restore yul to throne oneday , no matter what the cost. At the time yul is bethrothed to chae kyung but after abdication, it is prince shin who ends up marrying chae kyung. Years later when yul returns , he wants both the throne and his fiancee back. He forms a kinship with princess and falls madly in love with her. Soon the palace is running amok with conspiracies, unrequited love and disagreement between the royal couple. there also an ancient secret that threatens to change the lives of royal forever.
PRINCE SHIN :
Crown prince shin is the most eligible bachelor in korea at a tender age of 19 years. he is not only considered rich ,handsome and charming but also very distant,cold and a snob. However under his bluster , he is a lonely and very sad person, his only friend is his childhood teddy bear alfred. He has been trained by royal protocol to behave like a royal and put duty before everything else.Somehow nothing he does seems to satisfy his fatherHe is the student of a premier art institute. He dreams of becoming a film director and has no interest in royal affairs. he wishes to give up crown in future.He is interested in one of his school mates , a rising ballerina hyo-rin .he proposes her only to be turned down since she does not wish to live her life within the confines of royal protocols. He ends up getting married to a starry eyed commoner to keep up a royal promise which states that next crown prince will marry her. he thinks of it as both duty and a perverse revenge on the king since she is completely unsuitable for the family.however with time, he starts falling for her simplicity,he ends uptaking care of her in his own sweet little ways, but she seems to prefer his cousin to him. he burns with silent love and jealousy , however is unable to confess his feelings to his wife due to his nature and pride.
PRINCESS CHAE KYUNG :
An average art student at premier art institute, this teenager lives carefree life and has an unconventional tomboyish way of dressing. She has no interest in boys and enjoys rice cakes. One day she overhears prince propose to his girlfriend and being turned down, next day she finds herself being bethothed to the prince. While she has no interest in him , she agrees to go ahead with marraige so that she can help her family pay off huge debts. soon she ends up with a very cold and uncooperative husband who seems to enjoy her misery. she can sense his lonliness and feels guilty for taking away his chance of a life with hyo-rin. She falls in love with her husband but he seems to thwart her everytime she tries to come closer to him. She makes friends with prince yul who is prince shin's cousin and ends up spending a lot of time with him. soon it seems everytime she needs something, it is prince yul at her side and not her husband.she is always sad at her inability to win her husband's heart and feels that she is unworthy of him.She finally decides to leave the palace and unwittingly becomes a pawn in the conspiracy to destroy prince shin.
PRINCE YUL GOON:
Prince yul is a very complex character . He was the crown prince in the past , however after his father's accident , he is forced to leave the palace and live life as a commoner. his mother was unable to cope with the change and attempted sucide.all this left a deep scar on his psyche. he is haughty as a royal in a minute and comfortable as next door boy in another.he is kind ,playful and friendly. he however is jealous of prince shin because he believes his birthright was stolen. He ends up being chae-kyung's classmate in the arts institute. he identifies with her when she is snubbed by the prince. however, the more he gets to know her , the more he begins to love her. When he sees shin ignore her, he decides to win her for himself along with the throne. His love however becomes a tool for his mother to manipulate him and others.
HYO-RIN:
Hyo-rin is a ballet student that belongs to middle class, she catches the eye of prince and ends up in his circle of rich and mighty. She and Shin are actually just friends , however there is an unusual understanding between them. Prince shin proposes to her because he does not want to end up marrying a stranger.She refuses him because she wants to pursue her career and does not like the idea of being tied down by royal protocols. When shin marries chae-kyung, she starts getting jealous of all the attention showered on her. Furthermore she realises that the duty bound prince will never be hers, she is hurt when she finds out that prince is beginning to fall for his simpleton wife.She decides she wants shin back and plays along with yul's mother to blacken his name and force him into a corner.


Edited by pj04 - 04 May 2007 at 11:23am