Happy Birthday to u
Happy Birthday to u
Happy Birthday dear Diva (Dolly)
Happy Birthday to u..
On 22nd March a Luckiegirl who turns out to be a Diva later is all dolled up to celebrate her 21st birthday with all of us at India-Forums!!
Well what should I say about this Diva who has capitivated all of us with her witty and wacky ideas, she was pioneer in creating Hulchuls at Moderator sections..
Always buzzing with new ideas..with her new pranks.
Her puncuality,dedication,time management is something that all of us should learn.
A mastermind behind the Creative Corner where all the MADS come up with craziest of ideas to make I-F more interesting.
Well Diva is turning 21 this year so let me state some twenty-one interesting facts about her. So those of you who dont know her will know her now
1. A total prankster
2. Adorable
3. Mischievious
4. Creative of the highest Order
5. Intelligent
6. Very Very Punctual.. Even a minute late and her famous red Danda is on
7. Innovator..Comes up with great ideas.
8. A good leader
9. A cute DD..Now wonder what is that
10.Good Planner
11. Awesome Friend
12. Hardworker
13. Has eyes on my crush that is Abhishek Bachaan
14. A fine Dancer
15. A good cook.. Can cook Pastas, Garlic Bread (She claims to cook on her own but have not tasted yet so till a mystery
)
16. Chocoholic
17. Multitasker
18.Strong Ethics and Values
19. Good Listner.. though my experiences says she listens less teases more
20. Diva in true sense
21. Overall an amazing human being
Woooho thats quite a task listing all those wrong facts about her
Allrite enough of jokes
and now all the lovely I-Fians please put your hands together and sing a nice birthday song for her and wish her a great happy 21st birthday. May this birthday brings loads of happiness and love in your life!!
Now this is something that Mango dear has made for you especially.. Although my heart aches to put this but since its ur bday..an exception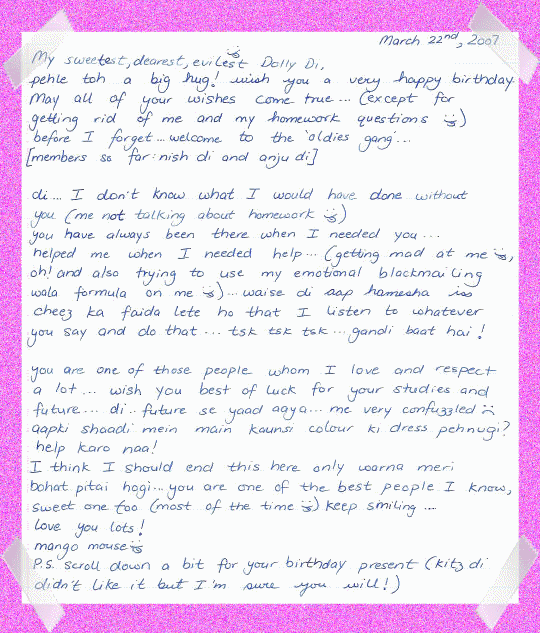 Edited by kirtib - 21 March 2007 at 12:17pm