Pak Sar Zameen Shaad Baad
Keeshwar-e-Haseen Shaad Baad
Tu Nishaan-e-Azme Aalishaan
Arze-e- Paakistan
Markaz -e- Yakeen Shaad Baad
Pak Sar Zameen Ka Nizaam
Quowat -e- Akhuwat -e- Awam
Quom, Mulk, Saltanat
Painda Tabinda Baad
Shad Bad Manzil-e-Murad
Parcham-e-Sitara-o-Hilal
Rehber-e-Taraqque-o-Kamaal
Tarjumaan-e-Maazi Shaan-e-Haal
Jan-e-Istaqbaal
Saya-e-Khuda -E-Zul Jalal
Sabz hilali parcham apna hai apni pehchaan,
Is ko jab lehraata dekhein jaan mein aae jaan...
23rd March!
what though blinks your mind when you hear this very date?
Just a common day, which comes every year? Just a day, which is as common as all other days in a year are?
No my dear friend, NO!
If you think so, you are absolutely are at the wrong guess!
Nor 23rd March is a common day, nor it has no importance!
It is a day which holds a very very important place in the hearts of each and every Pakistani!
23rd March is the Pakistan Day, which is celebrated every year with a big enthusiasm and nationalism.
Because on this very day, the Resolution Of Pakistan was signed!
A decision was made by the Indian National Congress that an independent estate for the Muslims of India would be made.
On this very day, the Quaid-e-Aazam Muhammad Ali Jinnah ( founder of Pakistan ) decided with the Indian Politicians that Muslims should have their own independent country.
Allama Iqbal ( the poet of Nation) saw the dream of an independent estate, and it was brought to fruitation by the great Quaid-e- Azam Muhammad Ali Jinnah.
Pakistan is a country, as essence which was achieved by the Muslims of Indo-Pak after a lot of struggle and bloodshed.
Lots of Muslims and Hindu's lost their lives in making the dream come true.
and blessed us with the Islamic Republic Of Pakistan.

Hazaaron phool se chehre jhalas ke haak ho gae,
Bhari Bahaar mein is tarha apna baagh jala.
Mila nahi watan-e-Pak humko tohfe mein,
Jo Hazaaron deep bujhe toh ye chirraagh jala.
The decision of an independent state of Pakistan was taken at the Minar-e-Pakistan of Lahore which is one of the msot incredible infrastructure in Pakistan.
The Great National Heroes of Pakistan, The Quaid-e-Azam, Allama Iqbal, Liaquat Ali Khan, Sir Syed Ahmed Khan and Ayub Khan strived for this dream and their hardwork resulted as a heavenly present for all the Muslims of India, who were brutishly dominated by the British Officers of the time.
Lots of innocent lives were lost in the struggle to attain our dear country!
People gave up their lives to embellish those of their Muslim brothers.
They made a remarkable history, giving up their lives for the passion and love they hold for their country, for which , they even didnt cared about their lives, and as the glow of their hearts went iff, a new candle burnt in the hearts of millions of Muslims who fled to Pakistan, entered this Pak watan as their very own Mother Country!
Through my post, i want to form a big tribute to the National Heroes of Pakistan, Those Enthusiastic and Full of Nationalism Muslims, who gave up their lives for their Country and to Pakistan, our Dear Mother Country, for which we gave lots of sacrifises!
A big salute to all those who lost themselves to discover a country of their own..
A big salute to all those who didnt cared for their present, but for the future of the millions of Muslims who were going through the bad times of their lives , being cruely dominated by the Britishers!
A big salute to all those who let the light of their life go off to bring up a new tree of glowing sun by the name of Pakistan!
They let go off their lives to bring us shelter fir the rest of our lifetime, coz they believed that:
Baare duniya mein raho ghum zada ya shaad raho
Aesa Kuch karke chalo ke yahaan yaad raho
And really, they did something which can never be forgotten by anyone,
they sat a phenominal history of patriotism and nationalism,
and gave the whole world a lesson of loving one's own country unlimited!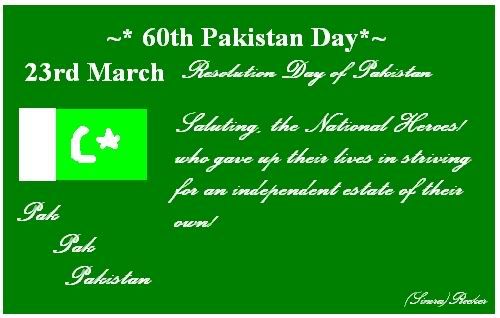 Come On Everybody!
Lets together pay a tribute to all those, who are the "Shaheed of Nation".
Dont participate as a Muslim, Hindu or a Christian, but as a one whole united nation, as human being, as the United IF-ians!
Its a day we have to remember the sacrifise of our Hindu and Muslim brothers who designed a wonderful future for us in our Own Country, by giving up themselves!
insaan ki pehchaan faqat iss ka watan hai,
insaan hai wahi jiska koi apna watan hai.
We must be proud that we now have our own country, which we can proudly call our Mother Country!
A big thanks to all those who gave us the oppurtunity to say this,
to provide us an independent country of our own,
to provide us with a country which is all ours,
to provide us with our Paak Watan Pakistan.
Lets together form a tribute and salute to the people,
who in one way, blessed us with a new life!
With a country , which si our very own,
and now which is our responsibility.
Pakistan is our country and we are its nation.
Its a duty upon us to love and care for it.
Ye watan hamara hai, hum hein paasbaan iss ke,
Ye chaman hamara hai, hum hein nighibaan uss ke,
So, love Pakistan and care for this country, which is achieved by a loss of millions of life..
Yeh hai hamara apna watan,
yeh hai Pakistan aur hum hein Pakistani,
jis ke liye dee qurbani,
hum ne laakhon jaan ki..
and though in which corner of the world we are,
ewe respect you, we are proud of you , and we love you!
* Pakistan Zindaaad*
*Pakistan Paaindabaad*
Happy Pakistan Day!
Lots of Love,
Sammy


Edited by rocker - 20 March 2007 at 10:21am