imp:when i put 2
that means the character is laughing wen i put one
that means im just laughing.
[font=tahoma]
5th epii;;
...Same scene as last epi, Kajjal and Anita watching the little kids play.
Anita:Kajjal! Arent they cute?
Kajjal: Aneet, can we please leave? these kids are annoying!
Anita: omg, Sach mein, what kind of mom will you turn out to me, hahaha(Anita laughng)
Kajjal: Who said I want kids? And im going to go watch those guys play basketball, cum if ur not or im going!
Anita: Acha baba, lets goo.
At the game...well well well...who do they see? Aaryan!! Aaryan's playing bball with all his consentration, so doesnt see them. But they stand there watching him.
Kajjal: wow! Look at his bball moves!
Anita:phhhtt i could beat him anytime.
Kajjal: Oh sureeee...waisa look at what he's wearing not his usual cool looking clothe but gym clothe!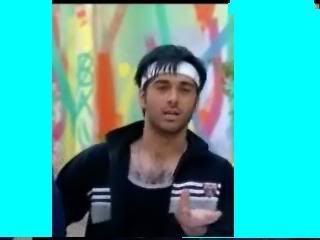 Anita: so what? He look's nice
*blush*
Kajjal:OoooOooo haan haan voh to bohat acha hein!
Anita:Acha chup! game dekho.
They quietly watch the game. Finally when the game was over it was 25-22, Aaryan had won! They were just about leaving when sumone tapped them on the shoulder. It was Aaryan.
Aaryan: Excuse me?
Anita: uhmm hi
Aaryan: Anita, Kajjal! u guys?
Anita: yeah, we came and we say you playing and we thought we could watch and. . .
Aaryan:
thats why i came here, I saw sumone watching us but in the distance couldnt see who it was!
Kajjal: It was us. waisa where's Arjun?
Aaryan: Oh he's in the kids area watching the kids. He jus simply adores kids!
Kajjal: Oh....acha. (all shocked) waisa, all your friends are gone of the court, mind if i suggest you play versing Anita, she's not too bad herself!
Aaryan: Oh really? hmmm. . .
Anita: Nahien, im not too good. Kajjal's just bluffing!
Kajjal: Oh no I aint! she beat this guy named Abdul in our "basti" and he's the best!
Aaryan: well then, how bout sum one on one?
Anita: uhmm, sure!
Anita and Aaryan play while Kajjal goes to the kids area, to visit Arjun!
Aaryan: Anita you'll lose.
Anita:not a chance.
They start playing, "accidently" Aaryan brushes his shoulder against Anita's
But this didnt make Anita back off, in the end Anita won!!! 19-22.
Anita: Dekha tumne? you play like this!
Aaryan: Acha jee. tumko Math, Science, singing, aur basketball ati hein? wow, im impressed. Hey, why dont we meet in the cafe, the one on the right side of the park, I'm going to the bathroom, until then why dont you go get a seat?
Anita: Okay, lekin Arjun aur Kajjal?
Aaryan: Anita, Arjun is the worlds biggest flirt, and I think Kajjal isnt no less. So lets just leave them where they are. and we go eat?
Anita: hehehe teek. Okay hurry though.
Anita skips along the way thinking, "yeh Aaryan itna ameer (riich) aur mujhse dosti kyu kar raha hein? Itna acha, sweet, nice, honest and handsome larka, ive never seen before. He's just too good!
Anita sits down and the waiter comes...
Waiter: Maam, anything for you yet?
Anita: no not right now.
After a while Aaryan comes, wearing a sweatshirt, looking very very hawtt.
<<<tht one.
Anita: you changed?
Aaryan: yeah, those were my gym clothe, these are the clothe I wore here i just wore those to play.
Anita: Oh.
yeah i sort of noticed you werent in ur "cool clothe" that time.
Aaryan: you know me pretty well ehh?
Anita: Nahien vohh uhmm..
Aaryan: you sound very cute wen u say nahien...vohh..uhmm and then blush.
Anita:
Aaryan: anyways, want sum food? How bout sum butter-chicken, raita, and naan?
Anita: Aaryan! that's my favorite lunch, butterchicken, raita, and naan!!!
Aaryan: Saach mei? look's like we're made for each other!
Anita:
what do you mean?
Aaryan: Exactly what you heard!
Anita: Nahien..voh...umm
Aaryan:
Again vohi nahien voh umm then blushing
Anita: acha kaana order karo.
Aaryan: Waiter!!
waiter: yes
Aaryan: we'd like butterchiken raita and naan and sum coke.
waiter: will bring it right away
After the waiter left Anita & Aaryan talked about general things like whose in there familes, whos there teachers. . .but awhile later music starts playing, many couples get up and dance, but Anita and Aaryan dont. But when the song Jeene ke Ishaare from Phir milenge started playing Aaryan couldnt resist.
Aaryan: Anita, if you don't mind can you dance to this song?
Anita: Aaryan...sure.
Slowly they both get up and dance to the slow dance to Jeene Ke ishaare and the to Tere Bin from Bas Ek Paal and slowly then to Ya rabba from Salaam-E-Ishq they just couldnt stop
<<(Imagine them in the othr clothe) Slowly all the other couples notice how beautiful they looked and left the whole dance floor for them and went to there seats to watch 'em. Finally wen the ended
they hear clapping
They blush and go sit down and eat there food.
***********End of Epi***********
Was it too boring?
Did you like it?
Do you think Arjun and Kajjal are....
Whats going to happen next?
please leave comments