The last time we met him, he offered us shilajit, assuring us it was more potent than Viagra. This time he knows we are better prepared. He smiles. "So how has it been? I won't trouble you this time," he smiles impishly, making you wonder if he's having you on again.

Salman, son of the famous Salim Khan, started off well enough with the Rajshris Biwi Ho To Aisi and then Maine Pyar Kiya. Just when people were beginning to note his good run, things went awry. But Salman wouldn't say die.

And as criticism mounted that he was all looks and brawn, he got a hit that smashed all box office records -- Hum Aapke Hai Koun. And then, in Rakesh Roshan's hitKaran Arjun, Salman finally took off his shirt....

It was during the making of Veergati that he actually began building his body. And the effort showed in Karan Arjun.

"I realised that a good body was an asset and hence I cast my shirt off for the film. When you have a good body, why shouldn't you show it off, man? Walking around bare-chested is not new for me. Even in my house, I never wear a shirt. You will always find me in just shorts.

"If I am driving or walking down the road, and if I feel hot, I just take off my shirt and carry on. I do not care what people say. If you have a problem, get lost."

One of the ways Khan keeps himself in trim is by training with his friend, Ali, the world kickboxing champion in the lightweight category "whenever he comes to India." And exertions over, he indulges himself in some photography, which he is quite good at. "I do indulge in taking pictures often," he says, adding reflectively and a little mysteriously, "Let us see how things work out for me..."

What about claims that he is arrogant? How does he counter those, we ask him. And he bristles.

"Call me arrogant or whatever you like. I am like this. I try and put forward myself very clearly. I am not scared of speaking the truth. I have been labelled arrogant by a section of the film press, especially those magazines which want me to run around them and accept whatever they write about me. If I call you names, if I write rubbish about your family, will you like it? It can spoil your relationships with your colleagues and family and also land you in a soup. Just because somebody wants to sell his magazine, does it mean I should allow them to make use of me?" He takes a deep breath.

"If I am so bad then why aren't people scared of me? Why do children run and come to me for autographs? Why don't parents hesitate to introduce me to their children? Do I behave like a real-life villain? The truth is that only those people are scared of me, who, when I was going through a low phase, wrote a lot of rubbish about me. I was rude to people because of their own mistakes. Most of them were journalists who indulged in yellow journalism, and I refused to give them interviews.

"Since I stopped entertaining them, they wrote a load of bullshit about me. Why should I take all that shit? I am a man who has his principles and will adhere to it."

Didn't he have a hard time living up the standards of his famous family?

"I was always considered the black sheep of the family. But then, the situation is not the same anymore. I have done a lot of good work. I have given so many hits and the number of flops that I have given is much less than anyone else in the industry today. I am not here today to prove a point. I have already proved my worth by giving hits like Hum Aapke Hain Koun and Karan Arjun, apart from Judwaa and other films."

And the devastating low that came after his initial victories? How did he cope with that?

"I was neither disillusioned nor disheartened when my career took a turn for the worse. In fact, I accepted my fate as part of the job. Highs and lows are part of the profession... I just indulged myself and had a good time," he says.

"Sitting and regretting things is silly and idiotic. The past is gone. We have to concentrate on the present and get a better future. But that does not mean that you slog your ass out. You have to work hard, but then you have to enjoy what you are doing, so that you do not ruminate and cry over it if it does not work."

But then why did he sign on so many films indiscriminately?

"I assume that I must have signed a lot of wrong films. I was in a desperate hurry to make money as all youngsters are when they land in a goldmine. But then I had an ambition to build myself a house. That would give me a lot of security and I would have something to call my own. But I guess that it was a foolish thing to do. I am not regretting it, mind you. But rather than signing all those movies, if I had done a few star shows or waited for good offers to come by, I would not have suffered."

And if the films failed, Khan blames the makers.

"Most of these films had terrific scripts. Having seen my father write and being a bit of a writer myself, I knew that these films had the potential of being good hits, but then the makers sadly lacked direction. The directors could never convert the script into a good film. To do so, one needs a specific degree of aptitude, commitment and money. I don't like to name anyone since I could hurt many people, but I must sadly admit that many of the producers who were making these films lacked what was needed.

"I have gone on record about this before, but then we only had idiots messing up the scripts and producers more interested in saving money. You cannot get anything but flops in such cases."

He is doing very well in romantic roles -- Pyar Kiya To Darna Kya, Jab Pyar Kisi Se Hota Hai, Janam Samjha Karo and Hum Dil De Chuke Sanam being some -- but he doesn't plan to get typecast. "I am doing very different roles in some forthcoming films too, films like Bandhan here and Dus (which has since been shelved)."

He's already looking forward to marriage to Somy Ali. But the date hasn't been fixed, he says.

"Soon, very soon! I will tell you all when I do it."

Khan has, meanwhile, also diverted his energies into another profession. His upcoming chain of restaurants, Indian Talkies, is to open its doors in the next few months. The dishes there are to be named after all the films he has worked in (maybe we can scratch the flops), and he promises clients that he will make personal appearances to whet their appetite for glamour too.

And then he lets his imagination really go. "Soon, New York, Hong Kong and Australia will have an opportunity to experience the exotic food of India," he says. And here he's discussing the Bollywood variety. "The concept is doing well. We promoted it a lot during my shows abroad," he smiles.

But he offers nothing on his plans to turn director, making one wonder if he plans to turn full-time businessman. No reply again. A subtle suggestion may be that it's time to leave.
We do.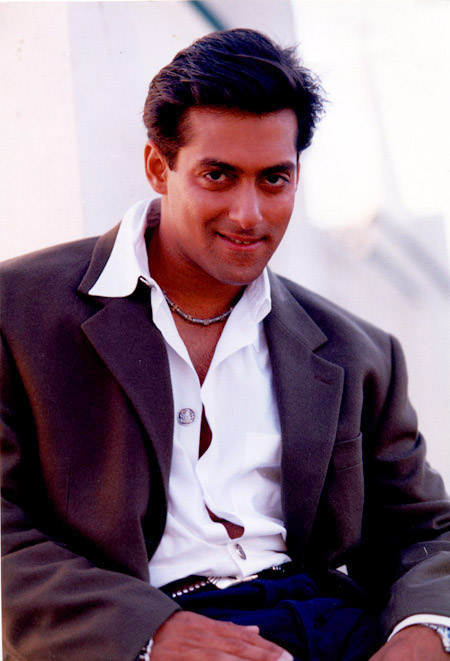 Salman Khan is known for his style, and is passionate about food.

Salman Khan, despite his years and stardom, is an eternal bachelor boy.

The ambience of his entire room in the newly done up house in Galaxy Apartments, Bandra, typifies the lifestyle of a single man for whom comfort comes above style!

Salman is known for his style sense and food is his passion. We explore both.

Style Icon :
Simplicity, according to bodybuilder Khan, is the answer to cool.

Lace shirts, bandhini prints, cycling shorts, tank tops, skin-fitting vests, tight-Ts, jewellery, cargo pants, three-quarter trousers, cut-offs - in fact anything that would accentuate his display of bulges, of the right kind of course.

It's the bulges that got everyone confused. Indeed, no one thought "Bodybuilder" Khan would get his gender so badly mixed up. Like, in his newest outing at the box office, Har Dil Jo Pyar Karega, Sallu wore really teeny weeny lungis - crafted in bright blues, reds and pinks with yellow flowers, all combined with chunky silver jewellery.

We had heard about male accessories and all that jazz, but really chunky jewellery? Even women do not wear that anymore!

Despite these deviations, Salman remains a fashion icon for many. Clearly, this is one man who loves dressing up - and makes no bones about it. What he loves even more, though, is dressing down.

Like he did in London recently, stripping down at a star-studded stage show for an NRI audience. Predictably, Le Khan got the audience shook up about Indian sensibilities, not that that shook him up any.

Style Roots :

Khan's early flirtation with fashion came with his years as a model. Known as former Miss India Sangeeta Bijlani's boyfriend, the macho stud was roped in to pose for a suiting ad opposite the buxom lovely.

Funnily enough, Khan's early images in Bollywood were spun by Anna Singh, the woman who's clothed Bollywood's admitted best dresser, Jackie Shroff, for the last 16 years. Indeed, it was Singh who gave Khan the item of clothing he's perhaps best remembered for: the Friend cap for the film that shot him to stardom, Maine Pyar Kiya.

The cap, of course, went on to become a rage all over India, with everyone from school children in sleepy village towns, to college kids in posh urban colleges buying and wearing one. And the word Friend went on to become a Hinglish euphemism for love and all things mushy.

Clothes Horse :

That film also marked the first time anyone can remember Khan taking his shirt off on screen, when, at the end of a long hard day at the quarry where he works, his character storms into the house in search of his love.

Only, in that scene, although his muscles were up on display, rough and ready, he was wearing a singlet underneath his shirt.

Indeed, it took until five years later, and the film Baaghi opposite Southern bombshell Naghma, when Khan took his shirt off in a desperate bid to boost box office performance. The cash registers, however, remained quiet.

It took the Barjatyas to make him hit the big time again, variously, in white and green, with Hum Aapke Hain Koun, the protracted wedding video during all of which Khan only took his shirt off once.

There followed a glimpse of his undies, (white, Joe Boxer, peeking out above the waistband of his jeans), earrings, more bare-bodied braggadocio and so on - until, with Har Dil Jo Pyar Karega, he decided to go traditional and cover up at the same time. Ergo, the lungis and the chi-chi plastic glasses.

And what drives him so? Perhaps, like one filmi hack put it, Khan chooses muscled magnificence to make up for his height: lower than that of most of his heroines.

Die-hard fans, of course, will swear by his beautifully-tailored black, beige or grey jackets, or the casual white-shirt-and-blue-jeans look, sort of what he wore in Sanjay Leela Bhansali's Hum Dil De Chuke Sanam. Or maybe bright bandhni shirts (another Jackie Shroff inspiration), tailored close to his body, but not really body-hugging.

Off-Camera :

On one of those lazy days, what you will see him most often in "is my white shirts and blue jeans. That will never be 'out' for me," he insists. According to him a pair of denims with a crisp, white shirt or a T is sexy. Simply classic, it's a formula that's worked for everyone from Tina Turner to Bill Clinton.

As far as his denims are concerned, the cuts vary. His tight fitting 501s are something that "I cannot do without". At the same time, he finds himself comfortable in loose, low-waist denims. He also thinks its "cool" to show off that underwear band above his loose, low waist jeans.

And keeping true to his ishtyle - when it come to shorts, it is cycling shorts for him. "I simply love them," he laughs. When he's not taking off his shirt on screen, he pours himself into see-through shirts of the Bangkok variety and second-skin Ts.

What Salman is most happy in, though, are casuals. He feels restricted in formal wear, not surprising given that all those layers, well, hide his assets. He may have danced his way in Hum Aapke Hain Kaun and umpteen films in churidar kurtas, but off screen, he hates wearing them. "Ganjis (vests), rubber chappals and torn jeans will do it for me anytime," he shrugs.

And the one he claims to be extremely possessive are his spectacles and his shades.

The Foodie :

Born into a family, for whom food is a passion, Salman naturally loves to eat. The regular cuisine in the Khan household is typical Muslim food with biryani, raita and other delicacies.

But Salman - being a foodie - likes trying out different kinds of food. Although rumoured to be a good cook, we have only his friends to vouch for his culinary abilities, since they are the only ones who have tasted the meals he churns out.

Spicy Italian food is supposed to be his favourite cuisine. He prefers home-cooked food and does not like to eat outside too much. But when he does, he prefers simple joints with good food rather than fancy restaurants that serve lousy cuisine.

It isn't a surprising sight anymore to see him at Haji Ali Juice centre after midnight, chomping on his favourite pav bhaji or pizza, and gulping down juice or Sitaphal ice cream.

After the ritual of eating, he almost always goes around to the sleeping beggar children and fills their palms with fifty-rupee notes so that they are surprised in the mornings!

He also frequents Noorani's at Haji Ali for their famous biryani. Salman religiously follows the rule of the house where one meal is at home, and all the family members sit at the table and eat together.

It's an intimate family gathering for them and except when out of town, Salman never misses a meal with his parents. Even during late shooting hours, whenever he is in Bombay, Salman almost always comes home for dinner.

It's during these late hours that he has his favourite food, what he calls 'Mixture', where he uses all the leftovers from various food items and mixes them before eating. He claims it tastes brilliant and also vouches for its nutritional value.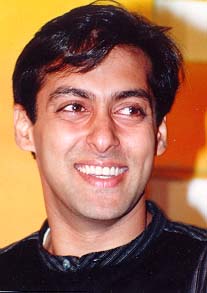 " I know what I am!"
Sensational Salman

He wanted to do a straightforward interview. Didn't want any comments or judgmental statements. "Lets do a Q and A session," he laughed. Hard hitting? "No Problem!" So this is how it went

Were you happy to be rated a sex symbol?

"I really don't have a problem about being rated as anything. I know what I am and the people close to me understand me. That's all that counts." "What is a sex symbol? It is how a certain section of society sees you, right? So they view me as sexy, huh? That is of no consequence. What is important here is being a symbol, someone who's reached a level that has people emulating him or her. That is a responsibility and I am happy that I've made that much of a contribution that people would like to copy me."

Your life with this country's most beautiful woman?

"I'm proud of her. I'm proud to be associated with her. My name linked with hers? It's a privilege. What more can anyone ask for a man?"

Why do you strip in every film?

(laughs) "Because my producer, director, distributor and audience, all want to have a good look at what they're banking on. And I've worked very hard to get into the shape you're seeing. I don't have a problem to show an arm, a leg and chest. It's fine by me. So why should it be a point of debate? I also act when my shirt is off, you know. Why not try and notice that as well!" .

You really did try and woo David Dhawan to take you in a number of his projects, didn't you?

"Look, I loved the kind of films that David makes. They're out and out hysterical fantasies that have no pretensions or psuedo fundas in them. They are excellent and complete entertainers. I was dying to work with him and I made sure he got to know it. But now I want to make things clear. No amount of wining or dining, as you put it, would've convinced David to take me if he didn't feel I suited the role! He was sure I could deliver if he gave me the opportunity toand that's how it began"

People are forever talking about the charitable work you keep doing

"That's an area I don't really want to talk about, suffice to say that I enjoy doing what I do and the quieter it is the better. Hey (he laughs), let at least one aspect of my life be underplayed and private. Since the rest of my private life is so public, at least there is something that keeps me feeling sane"

What's the film you really enjoyed doing?


"At the risk of sounding clichd, I've enjoyed working in all my films, but truthfully speaking, there is nothing to equal that feeling of watching yourself, with an audience, in your first film! It's magical. 'Maine Pyar Kiya' was magical. Not knowing whether the public was going to accept or reject you. Shaky Shaky Shakytill people burst out of the cinema hall applauding. My God, that was fabulous!"


Any other films?


"Then doing scenes in 'Khamoshi', doing a film like 'Andaz Apna Apna' and realizing you can be quite comic. Later on, working in 'Hum Dil De Chuke Sanam'. They have all been wonderful experiences."

What about your latest 'Kahin Pyar Na Ho Jaye' and 'Chori Chori Chupke Chupke'?

"I was convinced that 'Kahin Pyar Na Ho Jaye' would be a well-accepted film. Obviously, I was wrong. So now in the case of 'Chori Chori' I have not harboured any expectations. Let us see how it fares. That is one thing I've come to learn in this line. You cannot pre-empt your movie being a hit. You can only hope it will do well. You cannot dictate your audience reaction. So it's best to work to the best of your ability and hope"

Do you lead your life in the same manner? No expectations

"I'd love to, but the expectations just creep in unconsciously. Automatically when people have expectations of you, you have the same for them."

Don't you want you marry and have a family?

"Sure, but don't you think there's a lot of time left for that stuff?"

Do you think so?

"Sure. I'm still a teenager man (laughs)!"