Feedback Time!
Hi everyone! February was sure packed with lots of events, contests and goodies like celeb interviews.
Let me take you all on memory lane for February...
The month kickstared with asking you all "What Craziest things you all did in Jan". Then, we announced the "Winners for I-F Laughter Challenge". We all asked you all to Smile and Make Others Smile. We celebrated birthdays of J-squares (our Moderators). We also had an opportunity to make New Friends.
Then, Valentine's Day came around on the 14th and asked you all to participate in this exciting CD Cover Contest. Congrats to the winners! We also had a "Perfect Val-Day Contest".
Oh ya, how can we forget our admin, Sree's birthday? It was a great one! Also, our GM s.priya's birthday is coming up as well.
We also celebrated Buttercup's b'day as well as celebrated Pay a Compliment Day.
We also celebrated a silly day: Potato Day. Maha Shivratri was discussed as well.
During the celebrations of V-Day, we also celebrated Friendship Day. We also had a creative contest about expressing friendship thru art. Also, we had an odd post about recruiting mental patients aboard the I-F Train.
Phew! These were just a few events and occassions we covered for the whole month of February. Pls. give your feedback and we would really appreciate it if you did. Your opinions matter to us.
To contact us, please PM crazycreative
Adios for now,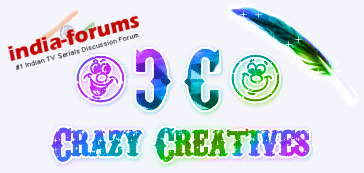 Edited by Belle1989 - 24 February 2007 at 3:48pm