Hey Sweethearts!
How are you guys?
Hope doing really well!
Ok, as we have loads of fun going around at our CFC forum, I thought why not to add a spunk to the infinite msti going on here, so watch me out now, with something pretty innovative and different from what u have seen previously over here!
You have heard of Member of the Week, Host of the Week,Game Of the Week, but has anyone came across the term Deewana Of The Week?nahi na?
Ok, lemme explain dis to u....!

The Deewaana/Deewaani Of The Week is a random select of the msot craziest members present in the CFC.
Our CFC Forum is an asylum, where loads of people. from across the world come and drool over their favourite celebrities
.They go mad,paagal,crazy,fool,stupid and everything silly in discussing their favourites.
Now it can be the way Leena and Amby are crazy for Salman, or the way Khair is for Abhishek, it can be Preeti's madness for her all-time-love Shahid,
or it can be Khushi di for her's lifetime favourite Rani Mukherjee.
Hence, different people with different choices.
So, DOTW (Deewaana/Deewaani Of The Week) will be a funny interview of all the crazy chums of CFC Forum. You can take it as a form of MOTW type, but it wont be serious at all. If you wanna ask questions from the DOTW, the requirement is that your questions should be funny and crazy and yea, most of all they shouldnt make any sense, clear?
hehe..
And also, only the members who are very active in a particular FC would be selected as the DOTW. Ok, so lets start with this crazy activity!
As its the very first episode of this crazy series of DOTW, so iam selecting a very crazy member for this...
Let me give you some hints for guessing who the person is!
a

She is very sweet.

a

She is 15 years old.

a

She is a crazy fan of Shahid Kapoor.

a

She is a diehard lover of the movie "Vivah".

a

She is the moderator of Celebrity Fan Clubs Forum.

Did you guessed her?
If yes, then thats pretty good!
and if not, then you guys are absolutely dumbos!
She is none other than our very lovely.....................
Our Deewaani Of The Week is Ms.Preeti .
She will be on our hot seat tofay ,discussing the love of her life.... Shahid Kapoor!
So, lets start with the interview!
To the very first Brand New Episode of....
Sammy : Hey Preeti, how are you?
Preeti: pretty good, what about you?
Sammy: well, iam fine,thnx. First of all,a Big Welcome to our Deewaani Of the Week Show. Thankyou so much for coming.
Preeti: Oh its really ok. my pleasure..
Sammy: So, Ms.lover...i mean Ms.Preeti ,how do you feel as being selcted the DOTW from the massive army of CFC asylum's mentals?
Preeti: Uuu, well, it was pretty difficult you know, bohat mushkil hota hai.... You know, like ignoring all the rest stuff of life and thinking about one particular person 24/7...Spending all the 24 hours of a day imagining him....wondering myself with him...I ate tv while watching coffee last night, i switched off my bed before going to light, i read the breakfast while eating newspaper this morning, this is how i go crazy when iam in Shahid's wonderland!
Sammy: oh, wow...that really shows how crazy you are!
Preeti; uh, thats nothing...infact, we went for a date last saturday night?
Sammy: really, where?
Preeti: well, we went out to Red Heat Disco first, after getting cosy there, we went to a restaurant for dinner and came back home after a long drive..
Sammy: wow, that must be real fun!
Preeti: oh ya, obviously.. me and shahid.. alone with each other, together...... .Infact, the date happened twice, when he dropped me home in his Mercidies Bence 2.3, later he came back on his land cruiser and then we went out again for shopping and stuff...
Sammy: how come two dates possible and soo late night shopping?
Preeti: urgh, silly, In Dreams and in Love, there are no impossibilities...
Sammy: so, what you mean to say actually?
Preeti: ufff. look, Shahid is my love and our date and all the time we spent together was my beautiful saturday night dream...So, anything can take place in a dream. Everything in limit, but love and fantasies, out of limits and beyond imaginations!
Sammy: So, you time out at Red Heat and the lng drive, all was a dream?
Preeti: yea, so, you think a famous , hot and happening celebrity like Shahid Kapoor will have enough time to take me out for a date?
Sammy: the way you were telling, i thought maybe it was true.. sorry!
Preeti: Ok Ok, next qustion please. iam in a hurry. its late for noon now, i have to return home soon and have to meet shahid at kfc in my afternoon sleep.
Sammy: afternoon sleep meeting?
Preeti: gosh ur such a brain eater!Hurry up, you know iam such a famous and important personality. Dont think i have rubbish time like khair, being online round the clock and chatting non-stop! I have lots of important things to do in my daily life.
Sammy: oh, iam really sorry ma'am, i'll definetely try my level best to wind up our interview as soon as possible..
Preeti: oh, g;ad...so carry on..
Sammy: Tell us sumfin abt ur daily routine? what do you do from beginning to end of a day?
Preeti: well, i wake up at about 9 am, have bath and then me and shahid have breakfast together...
Sammy: how come together?
Preeti: uffo! ur love is always with you in ur thoughts, you can feel them near you everytime... silly!
Sammy: oh, so thats all an imagination sequence going on?
Preeti: yeah na, kind of it!
Sammy: ok, sorry for the interruption, continue..
Preeti: yeah so, we have breakfast together, then we head our for some shopping, then lunch in a good restaurant, then we come back home, Shahid gives me some dance lessons, then we watch tv in the evening, then hang out together for a cosy plcae to be comfortable with each other, than dinner, than back home and then the beginning of all sweet hot times with the night.....
Sammy: oh..ahem ahem..well...soooo.....what is it you like msot about him?
Preeti: everything...his eyes ..i feel like they are a deep blue ocean and iam sinking in them..his hot black hair makes me feel like a big vast sky with lots of white stars on then ( actually they are dandruff. thats the only reason i asked Shahid to work in the "Clean & Clear" advertise, atleast it helped him remove a small amoutn fo dandruff from his hair...then his nose.....i love it when he blows his nose with his handkerchief ...how cute! and his lips, they remind me of a lip gloss ,pink and attractive, and his ears..... and his hands...what muscles, i guess he can even defeat John Cena in a match..and what sexy body! mann...he is happening...too hot!
Sammy: is there anything you dislike about him?
Preeti: how come? there cant be any.. my shahid baby is perfect!
Sammy do u miss him when he is on outdoor shoots?
Preeti: not at all, he never makes me feel as if he is apart from me , u know, sms, e-mails, calls and faxes, we remain almost as if we are in front of each other...
Sammy: what about Kareena? the media says that she is Shahid's girlfriend?
Preeti: you know na media, they just need some interesting stuff to mkae their mag work, thats it! Just the way they made Abhiash married one year before and Eijazanita engaged by themselves..Kareena is just a friend. if there is someone whom Shahid is seeing or who means the world to him, thats me!
Sammy: Nice. God Bless you couple. We wish you all the best for everything along with Shahid..
Preeti: thankyou..
Sammy: The time of our show is about to end, but before leaving ,we would like you to dedicate songs to some people..
Preeti: Huh? yea sure..
Sammy: ok, lets begin..
Dedicate one song to....
Shahid Kapoor-
Me ( Sammy )
Kareena
India-Forums
Preeti: ok sure, here you go..
Shahid Kapoor- you are my dream,my love,my life, i jus wanna spend my life with you..
Me ( Sammy )- who let ammy out?
Kareena- back off baby!
India-Forums- bin tere kiya hai jeena?
Sammy: thankyou for being with us preeti! that was absolutely a pleasure and honour to have you here..
Preeti: welcome.. bye
Sammy: Bye

So guys, that was all about with our DOTW!

Hope you guys like ittt...

Have fun n stay smiling!like this -
hehe..
Have a great time on Valentines Day this year,.. Happy Valentines Day

Party Hard!

I will def be back with another DOTW soon..
till then , take care

Love u guys a lottttt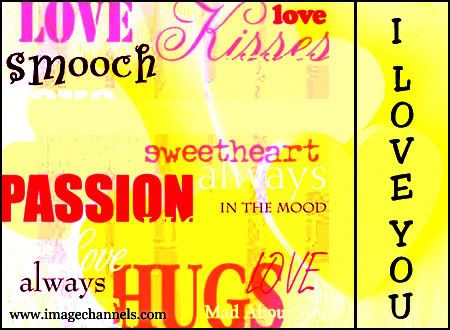 xx Sammy xx